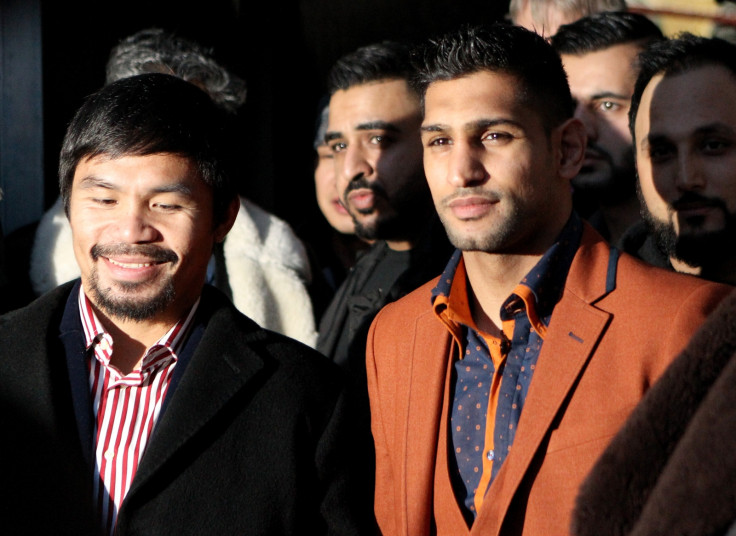 Amir Khan says he is open to fights with Lamont Peterson, Danny Garcia and Keith Thurman while he waits a showdown with Manny Pacquiao.
After being overlooked on three occasions by Floyd Mayweather, Khan, 28, is now considering other options after insisting the undefeated American is guilty of ducking his repeated challenges.
The two-time world champion is hopeful of securing a fight with Manny Pacquiao after the Filipino's promoter Bob Arum told the Daily Telegraph a meeting between the two is a real possibility.
However, a showdown with his old sparring partner will have to wait until the 36 year old recovers from surgery after suffering a torn rotator cuff before his May showdown with Mayweather. Pacquiao is not expected to return to the ring until next year, leaving the door open for Khan to find another opponent in the meantime.
Since linking up with the influential Al Haymon in April 2014, Khan has won all three of his fights at welterweight level. While he has a couple of prospective opponents in mind, the Bolton-born fighter says he will leave the decision down to his advisor again.
When asked what his perfect scenario would be in light of Pacquiao's injury, Khan told the MMA Hour: "My best scenario is to leave it to Al Haymon. I've said to him I want to fight the best names in boxing. It could be Thurman, the Garcia rematch, the Peterson rematch.
"A lot of fighters say they'll fight anyone, but when it comes down to it, they never want to sign the contract. I think I'm probably one of the only fighters out there who'll fight anyone in front of me. I'll just leave it to Al Haymon."
Khan will watch on in September as Mayweather meets Andre Berto in what is scheduled to be the five-weight world champion's final professional bout, where he will seek to equal Rocky Marciano's long-standing 49-0 record.
Mayweather's decision to select a fighter who has never been considered among the elite of the welterweight division has been met with dismay by many boxing fans.
Despite being levelled with accusations that his constant public challengers to Mayweather killed off his hopes of getting the fight, Khan maintains the veteran's fear over losing his undefeated struck was the biggest stumbling block.
"I believe Mayweather thinks I will beat him," Khan said. "He is scared and that's the reason this fight isn't happening. I have the blueprint to beat Mayweather. You need speed, movement and power. People always go back to the Pacquiao fight but what Manny Pacquiao doesn't have and what Amir Khan has is size. You need to be physically bigger than Floyd Mayweather, Which I am. With Floyd knowing this, he's thinking 'do I really need a hard fight to finish?'"