Rights group Amnesty International is "deeply concerned" over allegations that Nigerian troops tortured and murdered civilians in Abia state. In a statement sent to IBTimes UK, the organisation said that it is investigating the claims of violence and human rights violations.
The remarks came following the emergence of a video that show what appear to be troops torturing and murdering civilians suspected of belonging to a separatist group.
The nearly three-minute-long footage began circulating on social media earlier in September. It appears to show soldiers forcing a group of half-naked men to lie down on the ground, beating them with batons. They are then forced to lie in a river and drink dirty water.
Pointing at what appears to be a corpse lying on the ground, the person recording the video is heard saying: "This one now, is dead".
The footage ends with images of the men lying in the water motionless. It is not clear what happened to them next and whether they are dead or alive.
IBTimes UK sources said the men were travelling to the residence of their leader, Nnamdi Kanu, when they were stopped by the military.
"We are deeply concerned by reports of violence and alleged loss of lives across Nigeria following clashes between the Nigerian military and supporters of Indigenous People of Biafra (IPOB) in Umuahia, Abia state," Osai Ojigho, Director of Amnesty's Nigeria said.
Ipob calls for the independence of Biafran territories that were forcibly annexed to Nigeria during British colonisation. An Independent Republic of Biafra was declared in 1967 and re-annexed to Nigeria in 1970, after three years of civil war.
"We are calling on the authorities to ensure the security forces prioritize the protection of people and avoid excessive force. We are investigating all allegations of human rights violations and urge the authorities to investigate and quickly bring those suspected of unlawful killings and other serious violations to justice," Ojigho, continued.
The army's spokesperson, Brigadier General Sanni Usman, said the army was aware of the footage and was investigating it.
"We are aware of certain video being circulated," he said, according to the Daily Post.
"We have gotten complaints of the said video, and have commenced an investigation into the matter and the report would be made public. The General Officer Commanding 82 Division, Major General Adamu Abubakar, is investigating it and whatever it is, we will definitely let the public know about the outcome."
Allegations of violence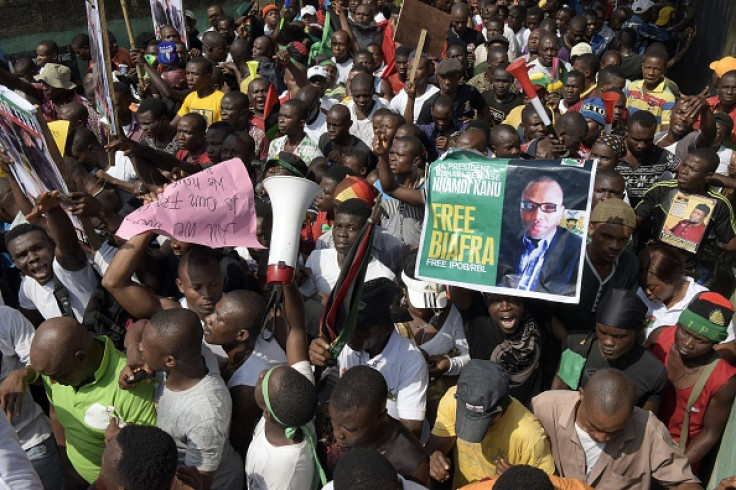 This is not the first time that Nigerian security forces have been accused of violence against of pro-Biafra secessionist groups, but authorities have always denied such allegations.
In March, Amnesty called on the governor of Anambra state in south-eastern Nigeria to investigate alleged killings of pro-Biafra secessionists that have occurred in recent years.
Amnesty released reports alleging abuses against Ipob members, claiming security forces had killed at least 150 people "and injured hundreds more during peaceful assemblies" since August 2015.
The army denied the allegations, claiming it intervened to prevent "ethnic clashes" and accused Amnesty of trying to tarnish its image.
Independence calls have gained renewed momentum following Kanu's arrest in October 2015. Kanu, Ipob leader and director of UK-based Radio Biafra, is standing trial on treasonable felony charges and was released on bail earlier this year. The trial will resume in October.
The Nigerian government has always maintained the country's unity was a priority and that while peaceful pro-Biafran protests were welcome, demanding the breakaway of the Biafran territories went against the constitution.