Demonstrators dressed as the Statue of Liberty have held a silent protest outside the US Embassy in London to mark Donald Trump's first 100 days as president.
The 100 statues protest – organised by Amnesty International – involved people with their faces painted and dressed as the famous US landmark.
Some of the statues, who were all wearing black armbands, held small placards 'No ban, no wall' and 'Refugees Welcome' as they stood in "sombre silence" outside the embassy in London's Grosvenor Square.
The demonstration was aiming to highlight some of the "human rights violations" Trump has overseen during his first three months in office, including the travel ban against predominately Muslim countries, his plan to build a wall accords the US-Mexico border and the "devastating blow" for woman's rights after he halted funding for NGOs that provide abortion advice.
Kate Allen, Amnesty International UK's director, said: "In the space of just 100 days, President Trump has done untold damage to the USA's already less-than-perfect reputation for upholding human rights.
"If the Statue of Liberty stands for anything, it stands for a willingness to shelter people uprooted through war and intolerance.
"It's a crying shame that President Trump's administration cares so little for what the Statue of Liberty represents."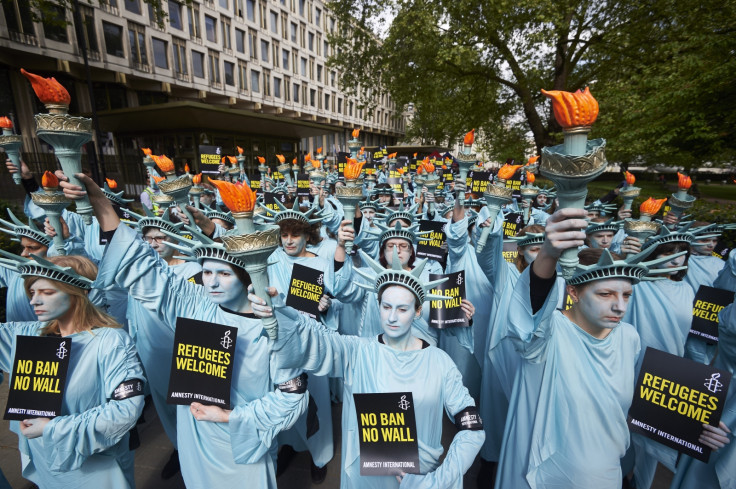 A similar protest also took place outside the US Consulate General in Belfast. Patrick Corrigan, Amnesty's Northern Ireland programme director, said: "In the space of just 100 days, time and time again President Trump has threatened and undermined human rights in the United States and around the world.
"The Statue of Liberty stands for American values of freedom and an age-old willingness to shelter people uprooted through war and persecution.
"We continue to stand for those values, even while President Trump has shown that he cares little for what this great symbol of America represents."