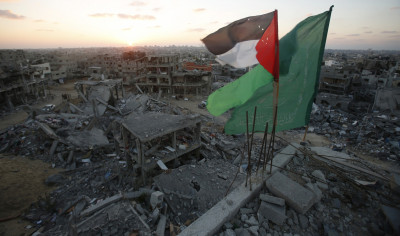 Amnesty International has condemned the "shameful and ineffective" response of global powers in a year that has seen some 50 million civilians fleeing their homes.
The report said 2014 witnessed the highest number of people displaced for the past 70 years since the end of World War II.
Calling the year 2014 "catastrophic" for millions of people including those who suffer in the conflict zones of Syria and Nigeria, Amnesty also urged the five permanent members of the UN Security Council to renounce their veto-wielding power.
The report made equally scathing remarks about both the Ukrainian government and the pro-Russian separatists, who have been locked in a deadly confrontation for several months.
"As people suffered an escalation in barbarous attacks and repression, the international community has been found wanting," Salil Shetty, secretary general of the organisation said in a statement.
"It is abhorrent to see how wealthy countries efforts to keep people out take precedence over their efforts to keep people alive."
Amnesty called on world leaders to wake up to the changing realities of what takes place in war zones and to respond appropriately.
On the disasters wreaked by organised non-state groups like Nigeria's Boko Haram or the Iraq-based Islamic State (Isis), the group said: "IS fighters committed widespread war crimes, including ethnic cleansing of religious and ethnic minorities though a campaign of mass killings of men and abduction and sexual and other abuse of women and girls."
The group was equally critical of the European Union's response to the humanitarian disasters in Syria.
Of the four million refugees who fled the Syrian conflict, only 150,000 are living in EU states while thousands died in transit, the report said.
Citing Moscow's veto to prevent any action by the UN Security Council against Syrian President Bashar al-Assad, Amnesty said the five permanent powers – the US, Britain, China, France, and Russia - "consistently abused" their power to promote their own "self-interest and geopolitical interest above the interest of protecting civilians."
It urged the five powers to give up their veto power in cases where mass killings and genocides are taking place.