These satellite images reveal the "catastrophic" scale of devastation to thousands of people's homes caused by Boko Haram militants in Nigeria in what has been described its deadly attack in its six-year insurgency.
At least 2,000 people were killed by an assault on Baga which left 620 homes destroyed by fire.
Neighbouring town, Doron Baga, had more than 3,100 structures damaged. There were many wooden fishing boats visible along the shoreline in the images taken on 2 January, that can no longer be seen. The images released by Amnesty International support witness accounts that terrified residents fled by boat across Lake Chad following the onslaught on 7 January.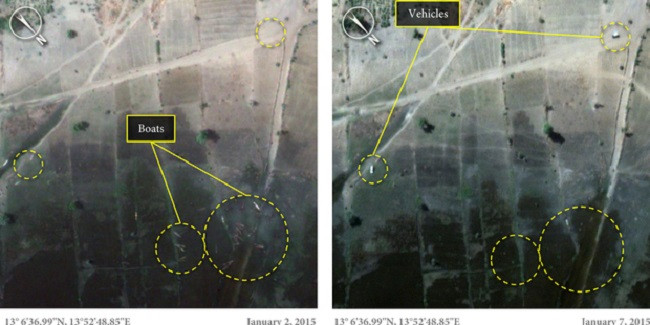 "These detailed images show devastation of catastrophic proportions in two towns, one of which was almost wiped off the map in the space of four days," Daniel Eyre, Nigeria researcher for Amnesty International, said.
"Of all Boko Haram assaults analysed by Amnesty International, this is the largest and most destructive yet. It represents a deliberate attack on civilians whose homes, clinics and schools are now burnt out ruins.
"Up until now, the isolation of the Baga combined with the fact that Boko Haram remains in control of the area has meant that it has been very difficult to verify what happened there."
He added: "Residents have not been able to return to bury the dead, let alone count their number. But through these satellite images combined with graphic testimonies a picture of what is likely to be Boko Haram's deadliest attack ever is becoming clearer."
A man in his fifties told Amnesty what happened in Baga: "They killed so many people. I saw maybe around 100 killed at that time in Baga. I ran to the bush. As we were running, they were shooting and killing."
He hid in the bush and was later discovered by Boko Haram fighters, who detained him in Doron Baga for four days.
Another witness described how Boko Haram were even killing small children and a woman who was in labour. "Half of the baby boy is out and she died like this," he said.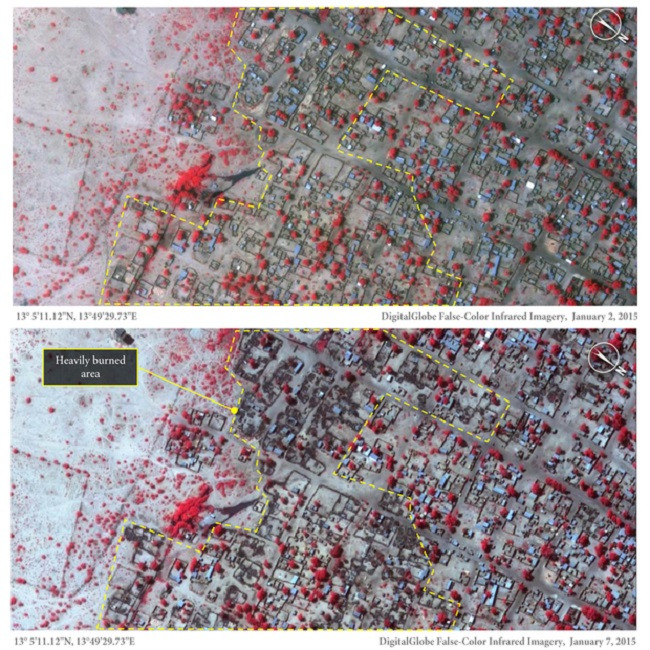 Thousands fled the violence across the border to Chad and to other parts of Nigeria, including Maiduguri, capital of Borno State.
Witnesses told Amnesty Boko Haram fighters were searching for Civilian Joint Task Force soldiers from house to house and shooting down men of fighting age suspected of collaborating with security forces.
The terror group continue to carry out attacks aimed at establishing an Islamic caliphate similar to the Islamic State in Iraq and Syria.
Amnesty is calling on Boko Haram to stop killing civilians and destroying their property.
"The government should take all possible legal steps to restore security in the north-east and ensure protections of civilians," a spokesman from the human rights organisation said.