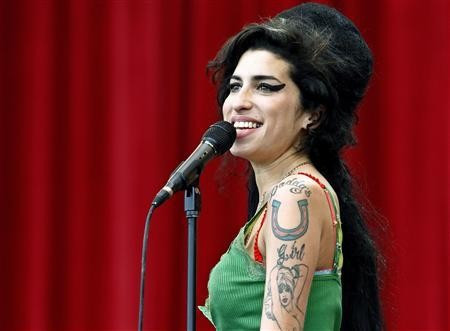 The private funeral ceremony for Amy Winehouse took place on Tuesday afternoon (26 July), where family and friends all gathered to say one last goodbye.
Winehouse's parents, Janis and Mitch, her brother Alex were among those attending the private service which was due to last around 45 minutes.
Producer Mark Ronson and media personality Kelly Osbourne were also among an estimated 200 mourners who arrived for the service led by a rabbi, at Edgwarebury Cemetery in north London.
The DJ and producer worked with the singer on her award-winning Back To Black album, currenlt numer one on the iTunes chart.
In tribute to the singer, Kelly Osbourne wore her hair in the style of Winehouse's trademark beehive.
Although the funereal was to be private, photographers and some fans lined up in the lane outside the cemetery.
A spokesman for the family said Mitch tried to keep the mood celebratory by telling funny anecdotes:
"He told some great stories from childhood about how headstrong she was, and clearly the family and friends recognised the stories and laughed along.
Her father's eulogy ended with the final words "Goodnight, my angel, sleep tight. Mummy and Daddy love you ever so much."
Winehouse, 27, will be cremated, The Sun reported, adding that some of the singer's ashes will be scattered with those of her beloved grandmother Cynthia, who died of lung cancer five years ago.
The 5-time Grammy winning artist is said to have idolized her grandmother, and even had her name tattooed on her arm.
Winehouse's bandmates, Zalon and Heshima Thompson, were among the select group included in the private ceremony which, according to Jewish law, had to take place as soon as possible after the star's death.
Her boyfriend, film director Reg Traviss, also paid tribute to the singer as he mourned her "untimely" death.
Ex-husband, Blake Fielder-Civil, was not allowed to attend after he was refused compassionate leave from jail.
He is currently serving a 32-month prison sentence in Armley near Leeds after being convicted of burglary and firearm offences.
The soul singer, had lost a battle alcohol and drug addiction, and was found dead Saturday at her London home. She was 27.
Winehouse's goddaughter, Dionne Bromfield, paid tribute to her today.
Writing on Twitter, the 15-year-old singer said: "I feel like apart of my Soul has departed with the beautiful Song Bird Amy.... Please Say a PRAY... She loved everyone.x".
An autopsy held Monday failed to determine the cause of the singer's death.
An inquest has been opened and adjourned until October 26, but no cause of death has been given. Police are awaiting the results of toxicology tests, which will take two to four weeks.