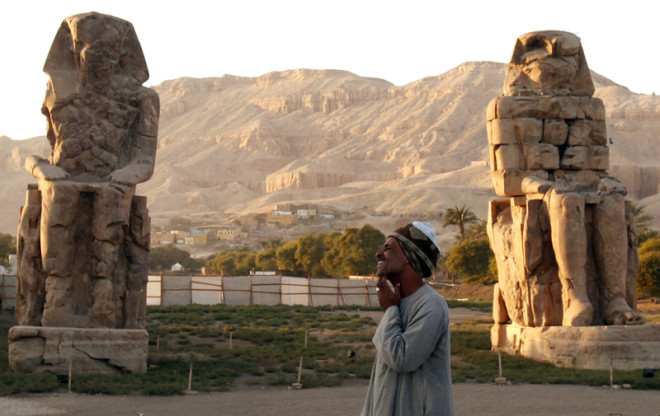 Archaeologists have discovered missing parts of the Colossi of Memnon statues, buried at the entrance of King Amenhotep III's mortuary temple on the west bank in Luxor.
A European/Egyptian archaeological mission led by renowned Egyptologist Horig Sourouzian discovered a collection of quartzite blocks that belong to the northern colossus, including a part of the statue's arm, a painted belt and a man's wrap skirt, according to Ahram Online.
Aly El-Asfar, head of the Ministry of State for Antiquities' (MSA) ancient Egyptian antiquities section, said that the blocks discovered measured 88cm x 76cm and that some of the other blocks were once part of the colossus' royal crown and foundation stone.
Ancient earthquake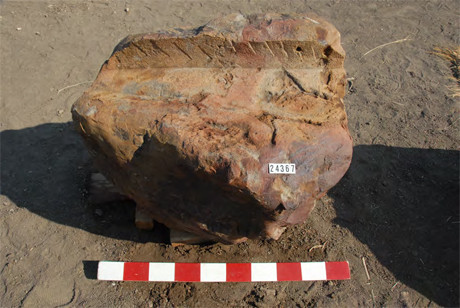 The Colossi of Memnon are gigantic twin stone statues of Pharaoh Amenhotep III (believed to have ruled Egypt from either 1391–1353 BC or 1388–1351 BC), the ninth Pharaoh of the 18th dynasty. His son Amenhotep IV later became the infamous heretic king Akhenaten, who moved the royal court from Thebes and only worshiped a monotheistic sun god.
The quartzite blocks from the colossi have been missing since an earthquake destroyed the mortuary temple in antiquity. Little remains now on the site, besides the statues, and various pieces of the statues are still lying on the site, threatened by constant irrigation of the privately-owned agricultural fields they stand on.
The Colossi of Memnon and Amenhotep III Temple Conservation Project, led by Sourouzian and German Egyptologist Rainer Stadelmann, have been working to save and raise the Colossi of Memnon since 1998.
"It is a very important discovery," said El-Asfar, adding that the discovery of the blocks will aid archaeologists in reconstructing both colossi so that they can be returned to their original glory.
Amenhotep III
Amenhotep III's reign was one of the most prosperous and his mortuary temple covered 350,000 square metres, the largest temple complex ever built in ancient Egypt.
The two statues originally decorated the temple's entrance gate and have been damaged from ancient tourists and the forces of nature, including an earthquake in 27 BC that shattered the eastern colossus, causing a bell-like sound to occur at the statue.
The sound was due to rising temperatures and humidity in the morning, but travellers would come from far away to hear the "music", including Emperor Hadrian in 130 AD, as being granted a song meant that the hearer was in favour with the gods.
The northern statue depicts Amenhotep III together with his mother Mutemwia, while the southern statue features Amenhotep III with his wife Tiy and one of his daughters.
Both statues have carved reliefs on their sides depicting the gods of the Nile joining together plants symbolising Upper and Lower Egypt, signifying that the Pharaoh's might have stretched across the whole of Egypt.