Norwegian mass murderer Anders Behring Breivik continues to claim that he carried out the killings of 77 people in his guise as a member of an anti-islamic Knights Templar group.
He insists the group is real, and has told an Oslo courtroom that he helped found it during a visit to London in 2002.
When asked by the court to explain its methodology, he said: "The essence was to try to distance oneself sufficiently from national socialism because it was quite bloodstained. We felt it completely essential to do so.
"For the extreme right to be ever able to prevail in Europe one had to differ oneself from the old-school ideology. One would choose a new identity".
Prosecutors insist that the the group does not exist in the manner that Breivik describes it. He remains adamant that it does but has refused to give information on members.
The image of the Knights Templar has re-entered popular culture in recent books and films, such as The Da Vinci Code and Ironclad.
The Templars were a 12th-century Christian military order where the members wore mantles bearing a red cross on white. The Templars were famed warriors, most commonly portrayed as wielding large broadswords.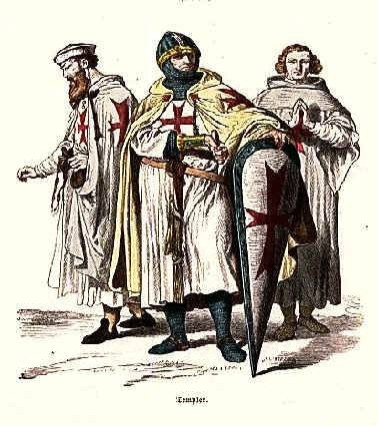 In invoking the name of the Knights Templar in his own far-right manifesto documents and film, Breivik appears to be drawing parallels between his own perceived war on multiculturalism and the Crusades, when the Templars were most active.
Although the reality of Breivik's group is not known, it does not represent the first time the name of the Knights Templar has be appropriated by organisations:
While allegedly forming the group in 2002, Breivik claimed he met with an Englishman who he called "Richard" after Richard the Lionheart. Paul Ray, a blogger who writes under the name Lionheart, told Associated Press that he belonged to an anti-Muslim group called The Ancient Order of the Templar Knights. He denied any contact with Breivik and said he was disgusted with the killings in Norway, although he admitted that Breivik appeared to draw some inspiration from the group.
The Holy Royal Arch Knight Templar Priests is a Christian masonic order based in York.
The Sovereign Military Order of the Temple of Jerusalem, based in Florida, is a Christian humanitarian organisation with 5,000 members across the world, including Norway.
The United Religious, Military and Masonic Orders of the Temple and of St John of Jerusalem, Palestine, Rhodes and Malta, is a philanthropic group and order of freemasonry.
The Militia of the Temple Order of the Poor Knights of Christ is an Italian Roman Catholic order with affiliates in 10 countries.
The Grand Commandery of Knights Templar, based in London, is a group that promotes random acts of kindness alongside historical research and chivalry.