Anders Behring Breivik Trial: Killer Claims Self-Defence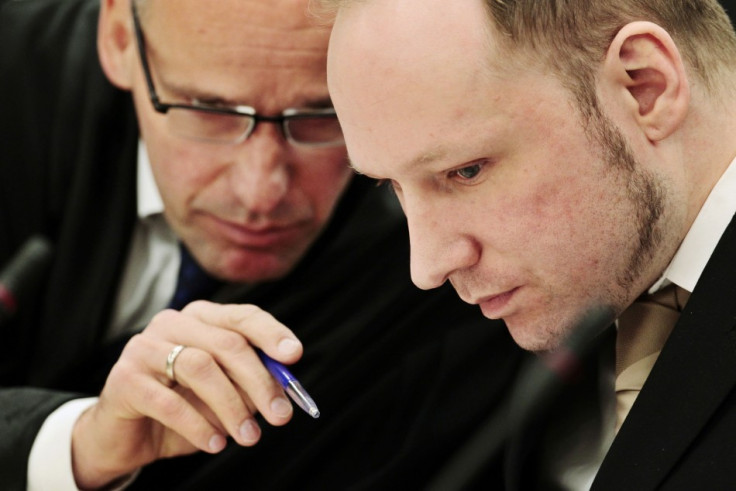 Anders Behring Breivik, the man who massacred 77 people in an extended rampage, has told a court he was acting in self-defence.
Breivik, 33, remained impassive as he sat in an Oslo district court house as prosecutors read out the names and causes of death of his 77 victims.
The far-right fanatic admits carrying out the attacks on 22 July, 2011. They began with a bombing in Oslo that killed eight people, and ended with a rampage on Utoya island as he slaughtered 69 people at a Labour party youth camp.
He told the court: "I acknowledge the acts, bit I do not plead guilty. I was doing it in self-defence."
His rejection of a guilty plea followed a claim that he would not recognise the authority of the court, which he claims "has got a political mandate from forces that support multiculturalism".
When he entered the court, he gave a raised fist salute then smiling as his handcuffs were removed.
Breivik appeared unconcerned as the details of the 77 killings were listed over more than an hour. Much of the detail was so graphic it was covered by bleeps in broadcasts by Norwegian media. Groups of survivors, present in court, held each other and wept as the details were recounted by prosecutor Bejer Engh.
Telegraph reporter David Blair, present in the courtroom in Oslo, commented on Breivik's behaviour while the details were recited: "The killer is slouched in his chair, apparently indifferent, but I've just realised that he's following the same list of the dead that I am on the indictment. Occasionally, he nods as if remembering how he shot a particular person. He looks like he's running a finger down a shopping list and checking off the items he bought. One of the most brazen displays of callousness I've ever seen."
Anders Behring Breivik Trial: The Facts
The court will have to decide on Breivik's sanity and therefore culpability for his crimes. Two assessments have been made of his mental state, one of which concluded that he was sane, another that he was insane.
© Copyright IBTimes 2023. All rights reserved.