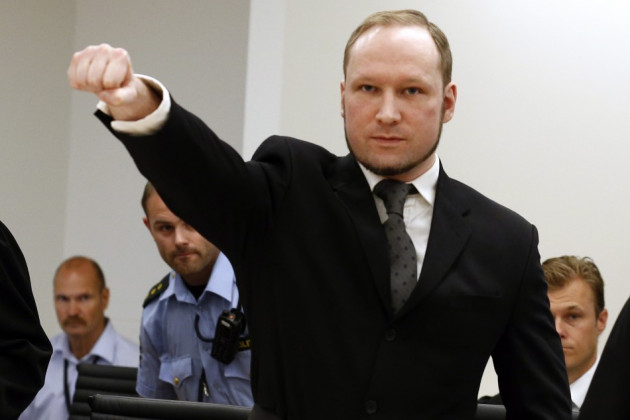 Anders Breivik has turned down inheritance money so the state cannot seize it to help pay for the compensation awarded to the families of his victims.
The 34-year-old, who killed 77 people and injured over 300 in Oslo and Utøya in July 2011, was jailed for 21 years in August last year.
During his trial, it emerged he had not paid taxes to the Norwegian government because he opposed the state so strongly. He said he was fighting against multiculturalism and Muslim immigration.
Breivik's mother died in March and while the amount of inheritance he would have received is unknown, her apartment was put up for sale for 3.7m kroner (£409,000).
However, the mass murderer refused the money before her death. The government would have claimed the money to pay for damages awarded to the families of his victims by the court in Oslo.
Speaking to AFP, lawyer Tor Jordet confirmed he had renounced the inheritance money to stop the government getting it: "It's surely one of the reasons behind his decision," he said.
Facist party failure
He added that the money is expected to go to the far-right extremist's half-sister and to charity.
According to the Norwegians tabloid Verdens Gang, the money will also go to his sister's two children. Breivik said he wanted his mother to be free to leave her money to other people, it said.
Breivik planned the bomb attack in Oslo and the gun rampage at a Labour party youth camp while living with his mother but left her apartment a few months before the attack.
He had laid out his plans in a 1,500 page manifesto posted online shortly before he began killing.
Breivik last month failed in his bid to create a fascist association from jail. He was refused permission to start the Norwegian fascist party and the Nordic league, which aimed to achieve "democratic fascist seizure of power in Norway".
His application was denied because of missing paperwork and lack of support. Mette Siri Brønmo, a spokeswoman for the body that registers such applications, told the Aftenposten: "To be an association, you need to have two people or more ... and in this case, there's only Breivik."