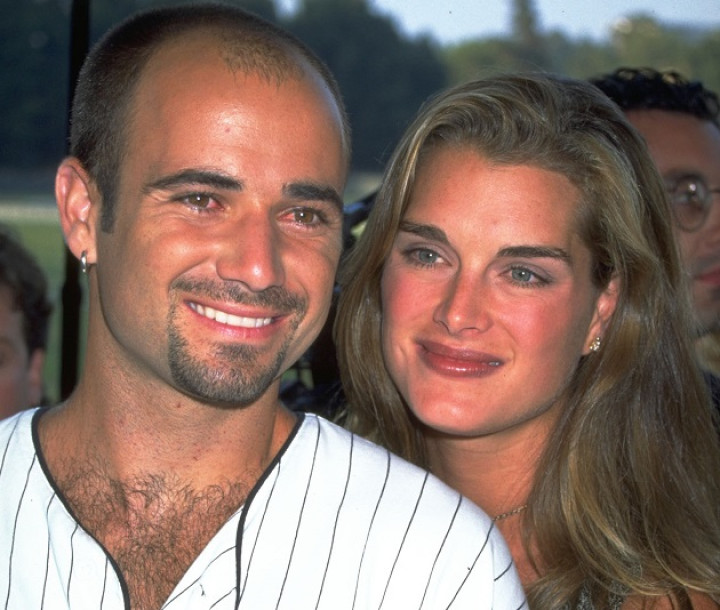 It was a case of 'game, set and smash' for Andre Agassi who suffered a monumental meltdown and destroyed his entire trophy collection because Joey from Friends flirted with his girlfriend, Brooke Shields.
Agassi reportedly freaked out at the sight of then-partner Shields attempting to seduce Matt LeBlanc's character in the smash-hit TV US show, by licking his fingers and laughing hysterically.
Brookes' sultry behaviour was all for cameras, but that failed to quell Agassi's explosive rage. He figured her antics made him "look like a fool."
The volatile tennis star stormed off the set where former child star Shields was filming the scene and drove home - all the way from Los Angeles to Las Vegas - where he destroyed his entire array of trophies.
"Upon arrival he systematically smashed and destroyed every single trophy he had won, including Wimbledon and the US Open, never mind all the others," Shields, 49, wrote in her new autobiography, entitled: 'There Was A Little Girl: The Real Story of Mother and Me.'
Unfortunately for Agassi, Shields' seduction scene with Joey is one of the most popular of all in Friends. It has viewed millions of times by fans of the show.
The episode happened in 1995 while the couple were dating and did not stop them from tying the knot two years later. But they divorced in 1999.