Andrew Garfield and Adam Driver face dangers in Japan in first-look Silence trailer
Liam Neeson and Ciarán Hinds also star in Martin Scorsese drama already being tipped for Oscars.
Before any footage had even landed, upcoming historical drama Silence, starring Adam Driver, Andrew Garfield and Liam Neeson, had been named as a potential Oscar contender. Now that the harrowing, first-look trailer has been unveiled, it's pretty easy to see why.
A self-proclaimed 'passion project' for director Martin Scorsese, the movie has been in development since 1990 and is based on the 1966 novel of the same name by Shūsaku Endō. Set in the 17th Century, it follows two Portuguese Jesuit priests who travel to Japan to promote Christianity and find their mentor (Neeson), who has supposedly renounced his faith for reasons unknown − reasons that the two Fathers are keen to find out. But despite their efforts to maintain peace, their quest proves dangerous when the country's isolationist foreign policies and contempt towards new religions begin to surface.
"The moment you set foot in that country, you step into high danger," Ciarán Hinds as the third Father can be heard warning his fellow clergyman before intense violins and Japanese drums start up in the clip. The tense, frantic music excels at establishing the film's tone, only stopping once to depict a shot of several men hanging on crosses over harsh rocks while the sea laps over. This isn't going to be an easy watch, that's for sure.
While its subjects and themes might seem hard-to-swallow, it's evident from this first clip that Silence is set to be a gorgeous film in terms of visuals. Cinematographer Rodrigo Prieto (who previously worked with Scorsese on The Wolf Of Wall Street) offers up striking images as diverse as sparse, candle-lit bedrooms, a bedraggled Neeson falling to his knees, black-cloaked priests dashing down white stone steps and dense, green rainforest.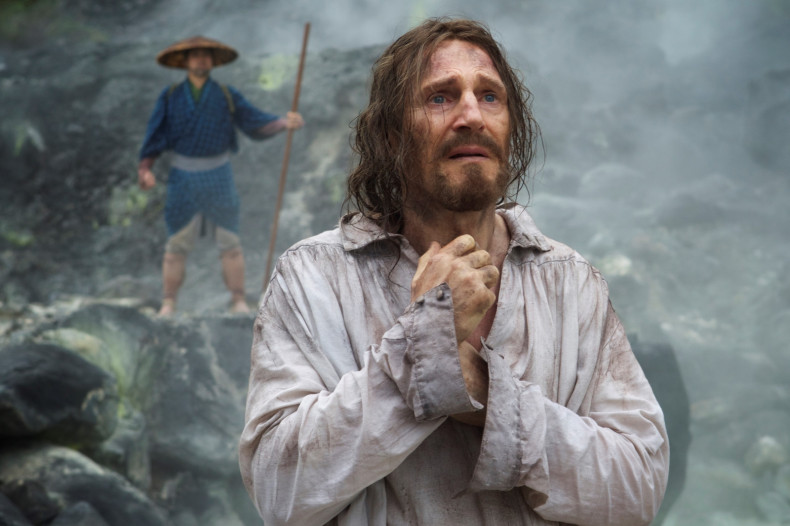 Also starring Ryô Kase, Yôsuke Kubozuka, Nana Komatsu, Shin'ya Tsukamoto and Tadanobu Asano, Silence will receive a limited release in the US from 23 December and open across more cinemas in January. The film will reach big screens in the UK on 1 January 2017.
For more entertainment news follow A-List on Twitter @Alistinsider