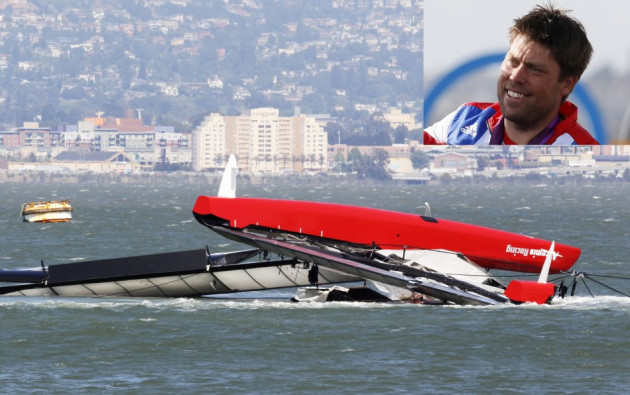 British Olympic champion Andrew Simpson has died after his yacht capsized in San Francisco Bay while he was training for the upcoming America's Cup.
The 36-year-old Olympic gold medallist, popularly known as Bart, was trapped under his Swedish catamaran for nearly 10 minutes as efforts to rescue him failed.
He was part of an 11-member Swedish team, Artemis, and was the team's strategist. He was originally from Sherborne in Dorset.
The team said on its website: "It is with immense sadness that Artemis Racing confirms the tragic death of crew member Andrew 'Bart' Simpson in San Francisco. Despite attempts to revive Simpson, both afloat and subsequently ashore, his life was lost."
The exact cause of the incident remains unknown. All the other crew members have been accounted for.
The San Francisco Fire Department has confirmed the death of one of the crew members in the incident. The department's spokesperson added another sailor was injured in the mishap but he escaped with minor injuries.
The chief executive of Artemis Racing, Paul Cayard, told a news conference that it was "a tragic day" for the team.
Cayard said: "Our prayers are with Andrew Simpson's family, his wife and kids, and also the rest of my teammates. It's a shocking experience to go through, and we have a lot to deal with in the next few days in terms of assuring everybody's well-being."
More than a month ago, Simpson tweeted ahead of his tour: "Moving the family to San Fran for 6 months is pretty hectic!!! The cup should be fun though!!"
Simpson won two Olympic medals including gold at the 2008 Beijing Games in the Star Class.
John Derbyshire, the performance director of the Royal Yachting Association (RYA) said: "Andrew is someone I've worked closely with since the age of 16 - he was a great talent and a key figure in our World Class Programme over many years culminating in his well-deserved Olympic success.
"He was a huge inspiration to others, both within the British Sailing Team and across the nation and our deepest sympathies go out to his family at this terrible time."
The America's Cup said in a statement: "Andrew was an immensely popular and respected member of the sailing community, and his two Olympic medals were testament to his talent."