Russian winger Andrey Arshavin is refusing to discuss his future at Arsenal until after the summer's European Championships.
The 30-year-old has spent much of the second half of the season on loan at Zenit St Petersburg where three goals in eight games helped the Russian club to their third top flight title.
Arshavin's success with his former side, coupled with the recent signing of German Lukas Podolski, has raised questions over his immediate future upon his return to Arsenal, answers the winger won't provide until after the Euro 2012.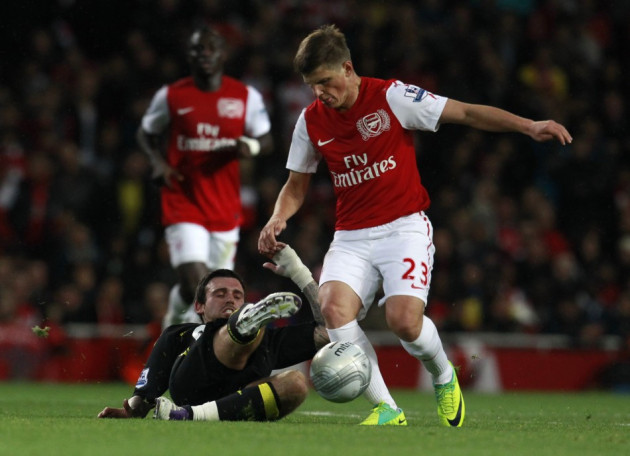 "I haven't yet thought about (my future). Everything will be decided after the European Championship," Arshavin told Russian newspaper Sport Express.
"Of course, the result and quality of play there could affect my destiny.
"Without a doubt it was the right decision," he added.
"There are many reasons why. First of all, I am now playing, and that is paramount for any player as training is no substitute for matches.
"Second, I have returned to my hometown. Third, Zenit have done everything to make me feel comfortable and my thoughts are now only focused on football."
Russia have been drawn with co-hosts Poland, Greece and Czech Republic in Group A, and will be looking to repeat their semi-final showing during the previous finals in Austria and Switzerland.
After making a £15 million move to Arsenal in 2009, Arshavin has rarely matched the expectations created by his substantial transfer fee during his days in English football.
The back end of his tenure saw his opportunities significantly reduced, as he started just eight times in the Premier League during the first half of this season.
Arsenal's form has improved dramatically since the departure of Arshavin in February, with the club now on course to qualify for the Champions League, with Tottenham Hotspur, Newcastle United and Chelsea looking to join them.
With Podolski having joined the Arsenal ranks, along with Gervinho and Alex Oxlade-Chamberlain, who have both impressed during their first season at the Emirates Stadium, Arshavin could be forced to sit on the side-lines again.
However, it is more likely the Zenit loanee will use the summer's European Championships as a shop window to earn a move to another giant on the continent.