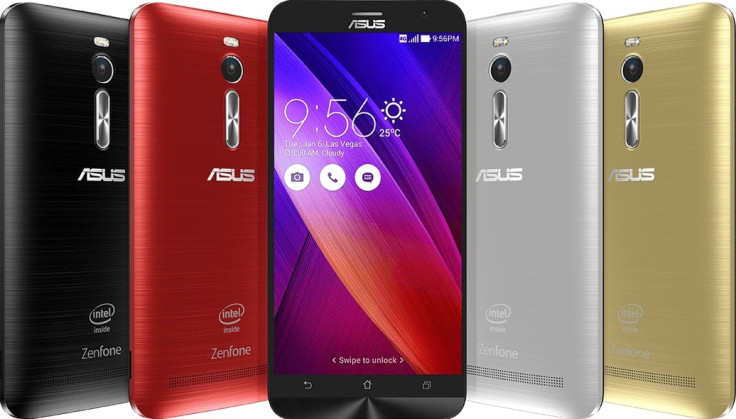 After finally rolling out Android 5.0 (Lollipop) OS update for users of its Zenfone 5 smartphones, Asus has now apparently set sights on rolling out the newer Android 5.1 version to the more recent Zenfone 2 handset series.
According to a post in the official Asus Zentalk forum, the Zenfone 2 handset variant bearing model number ZE550ML is in line to receive Android 5.1 before other smartphones.
As per an online chat between a Zenfone 2 customer and an Asus representative, quoted on the Zentalk blog, the Taiwan company has confirmed that testing of Android 5.1 (for Zenfone 2 ZE550ML) is in the final stages, suggesting an early release of the OS update.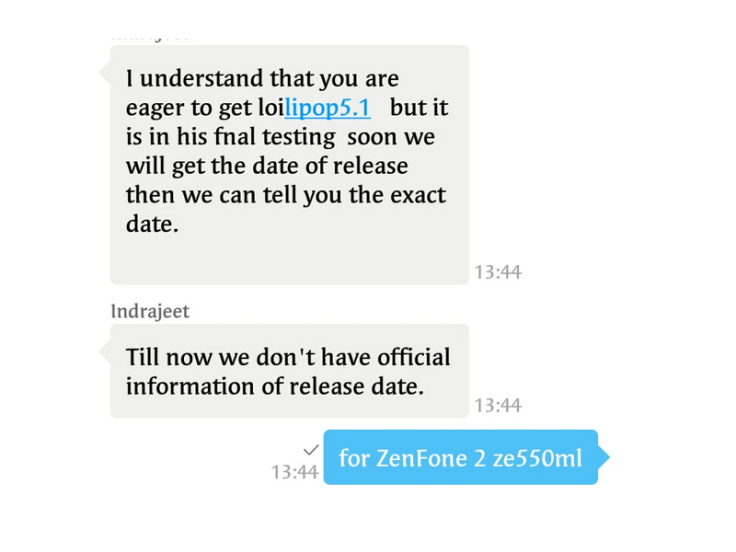 However, the Asus representative did not mention an exact release date for the Android 5.1 firmware upgrade.
Nonetheless, with the release of Android 5.1 confirmed for Zenfone 2 ZE550ML devices, owners of the smartphone can check their handsets regularly for newer over-the-air (OTA) notifications for Google's comparatively newer version of Lollipop.
Asus' Zenfone 2, touted as a flagship smartphone, currently runs Android 5.0 out of the box. With Android 5.1 set to hit the handset shortly, users can heave a sigh of relief after Asus considerably delayed rolling out Android 5.0 to earlier Zenfone 4, Zenfone 5 and Zenfone 6 smartphones that ran the legacy Android 4.4.4 (KitKat) OS until recently.
Newer enhancements offered by Android 5.1
Google's Android 5.1 (Lollipop) OS update, is basically a bug fixing firmware that offers patches to multiple inherent issues within the older Android 5 that threaten to disrupt normal functioning of smartphones.
Inherent issues fixed by Android 5.1:
Clock in the status bar isn't updating and alarms are not going off
Can't delete SMS messages when the SIM card is full
No ringer audio while making an outgoing call
Calculator floating point calculations
Chrome crashes on launch
Frequent restarts while watching Netflix
Wi-Fi will not automatically reconnect to your home Wi-Fi
Wi-Fi not connecting after being idle all night
Wi-Fi connection issues with multiple routers in one location
Bluetooth discovery is not triggered when you refresh settings
CPU wakelocks that contribute to heavier battery drain
Connection and synchronisation issues with MS Exchange servers
Incorrect default APN
Can't unlock the SIM with a PIN/PUK code
Can't play 'pinned' content
General stability improvements
Apart from bug fixes, certain new features are also brought along by Android 5.1:
Device Protection: Lost or stolen devices will remain locked until you sign in with your Google account, even if reset to factory settings.
Heads-up notifications: In addition to dismissing a heads-up notification, you can now swipe it up to remove it from your screen. It will remain in your notifications tray and you can dismiss it later.
Key technical specifications of Asus Zenfone 2 ZE550ML
Zenfone 2 ZE550ML is an entry-level smartphone, priced at £140 in the UK, $242 in the US and Rs 13,000 in India; featuring the following key hardware aspects:
5.5in IPS capacitive display, enclosed within Gorilla Glass 3, having resolutions of 720x1280
Android 5.0, with Asus ZenUI on top
1.8GHz quad-core Intel Atom Z3560 processor
13MP rear camera
5MP front camera
2GB RAM
16GB internal storage
MicroSD card slot for expansion of internal storage up to 64GB
4G LTE, HSPA, Bluetooth 4.0, Wi-Fi and microUSB connectivity
Fixed 3,000 mAh Lithium-Polymer battery.