The LG Nexus 5 returns to the spotlight as yet another Lollipop update with build Android 5.2 has been spotted running on the flagship handset, according to the latest Geekbench test conducted by primatelabs.
This is a big surprise, as the Nexus 5 had recently been spotted running Android 5.1 in another Geekbench test, while Google's Android One devices in the Philippines and Indonesia have been reportedly running the official Android 5.1 Lollipop update out of the box.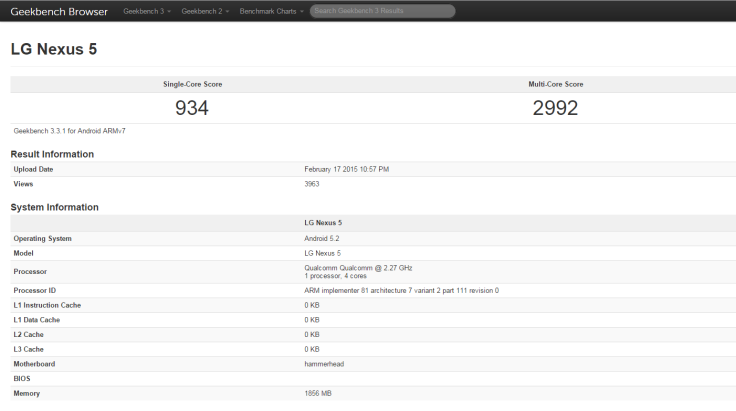 A new screenshot (see above) depicting the single-core and multi-core scores of a Nexus 5 in the Geekbench performance benchmark clearly confirms the existence of a yet unknown Android 5.2 build for Lollipop update.
Although earlier rumours hinted at an impending Android 5.1 Lollipop release for February, it comes as a big surprise that Google has already started testing the new Android 5.2 build in such a short span of time, following the official roll-out of Android 5.1 for Android One devices.
It may be noted that the Android Open Source Project (AOSP) development is currently limited to Android 5.0.2 version of the Lollipop, which makes us believe that the new Android 5.2 update could include a major bug-fix or introduce a big new feature.
As Phone Arena reports, it could rather be the handiwork of custom Android developers in creating a custom Lollipop ROM that intentionally reports a false Android version in a bid to fool readers.
If there is any truth to the speculation, then we could expect Google to skip the Android 5.1 update and roll out the new Android 5.2 firmware for all its Android devices starting with the Nexus line-up in the next few days.