Google's Android 5.0.1 (Lollipop) OS update is now apparently live for owners of Samsung Galaxy Note 4 smartphones, who have subscribed to T-Mobile's wireless network services in the US. The OS update had received technical approval last week, thus making the software eligible for a rollout.
According to an Android Authority report, that quotes multiple tipsters, T-Mobile-driven Galaxy Note 4 users in the US should observe the Android Lollipop firmware upgrade bearing version number N910TUVU1COD6, in the form of a hefty 1086MB sized file.
Also, since T-Mobile is yet to officially announce the above rollout, we expect Android Lollipop for Galaxy Note 4 to be seeded in phases, which means that it should take a while until all T-Mobile driven Galaxy Note 4 handsets receive the Android Lollipop OS upgrade.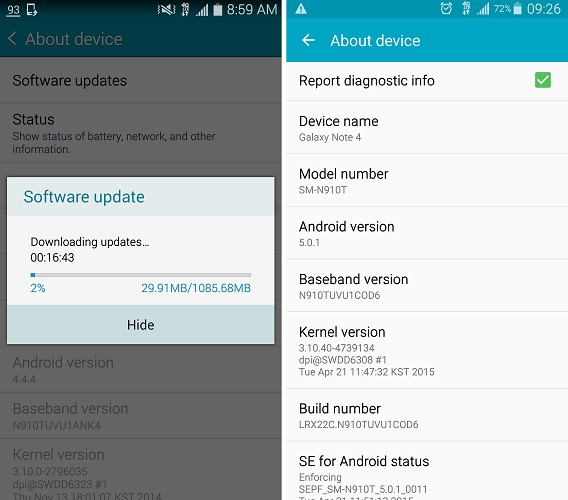 Newer enhancements
Users should notice the newer features given below, post installation of Android Lollipop:
Material Design: Material design offers fluid animations, vivid coloured themes and 3D-views.
Improved Lockscreen: Shortcuts for both Phone and Camera are provided, along with material design-inspired notifications.
Touchwiz: Brighter look and feel, bold colours, fluid animation inspired by material design.
Floating Action Button: Floating action buttons provide easy access to the app's most important features, such as adding a new contact or favourite, or composing a text message.
Smart Lock: Secure smartphone by pairing it with a trusted device like a wearable or car.
Interruptions: Priority notifications such as events and reminders, phone calls, and messages can be set up to sound or vibrate while all other notifications are muted.
Recents: Easy access to your Chrome tabs right from the Recent apps page. Multi-window icons for ease of use during multi-tasking.
Activation of 'OK Google' voice command: With OK Google, it is possible to issue voice commands to Galaxy Note 4 smartphones.
Battery saver feature: Indicates remaining time left to charge.
Manual search and download of Android Lollipop, within T-Mobile-driven Samsung Galaxy Note 4:
Android Lollipop is generally available automatically via OTA, but users can also initiate a manual search for the OS update post which a download/installation can be done.
From the home screen of your devices, tap the Menu Key > Settings > About Phone > Software updates > Check for updates
When download is complete, a screen will appear informing you that the new version of software is ready to be installed. Select Install Now
The device will power down and power back on. A screen will appear indicating that the installation has been completed. Tap OK.