Google's Eric Schmidt thinks Android is "more intuitive" than iOS and that if you move then you will "never switch back."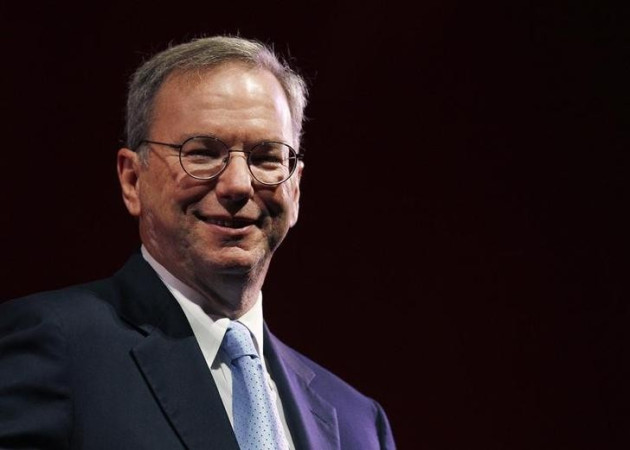 Eric Schmidt has posted his own step-by-step guide to backing up data on an iPhone and getting it onto a new Android device on his personal Google+ page.
In the blog post, Google's executive chairman particularly highlights Samsung's Galaxy S4 and the Google Nexus 5 as great Christmas gifts for iPhone users, since these devices offer faster performance, better screens and a "much more intuitive interface."
Apple and Google are both fighting for control of the mobile computing space with the companies' respective mobile operating systems battling it out on both smartphone and tablet fronts.
Schmidt's post addresses one of the most common issues which arises if people are looking to switch from one eco-system to another. Schmidt gives advice on how to set-up your Android device and transfer all your details from your iPhone - including contacts, emails and photos.
Get a Mac
Schmidt compares the process of switching from iPhone to Android to the "Get a Mac" marketing campaign which ran from 2006 to 2009, starring David Mitchell and Robert Webb in the UK and Justin Long and John Hodgman in the US.
The ads featured Mitchell as the slow, awkward PC while Webb played the hip, easy-to-use Mac, in various situations aimed to show how much faster the Mac could navigate problems that PC users often complained about.
"Like the people who moved from PCs to Macs and never switched back, you will switch from iPhone to Android and never switch back as everything will be in the cloud, backed up, and there are so many choices for you," Schmidt says.
Dominant
While Apple transformed the mobile phone market in 2007 when it launched the iPhone, as demand for smartphones exploded around 2009, Google's rival Android OS took control, and eventually took a dominant market share in 2010.
Android is now far-and-away the dominant smartphone platform in the world, with Schmidt mentioning that the most recent figures show it commands over 80% of the smartphone market..
Apart from attempting to drum up Christmas sales, it's not surprising Schmidt is on the offensive, given the fact that Apple has been making a point recently to have a pop at the Android operating system.
Worried
While Apple continues to make more money from the units it ships, Android's increasing market share is likely to have Apple worried.
"This version fragmentation is terrible for developers, as many of you know," Apple CEO Tim Cook told developers at the company's Worldwide Developer Conference last June. "In fact, if you do the math, you would find that iOS 6 is the world's most popular mobile operating system, and in second place is a version of Android which was released in 2010."
Earlier this month, Google launched the latest version of its flagship OS, Android 4.4 KitKat, which is designed to run on both low-end feature phones in the emerging markets, as well as high-end smartphones.
KitKat could be the answer to the fragmentation problem as app developers will now be able to develop apps whose behaviour matches the memory configuration in a device, so large-memory features can be disabled and optimised for entry-level handsets.