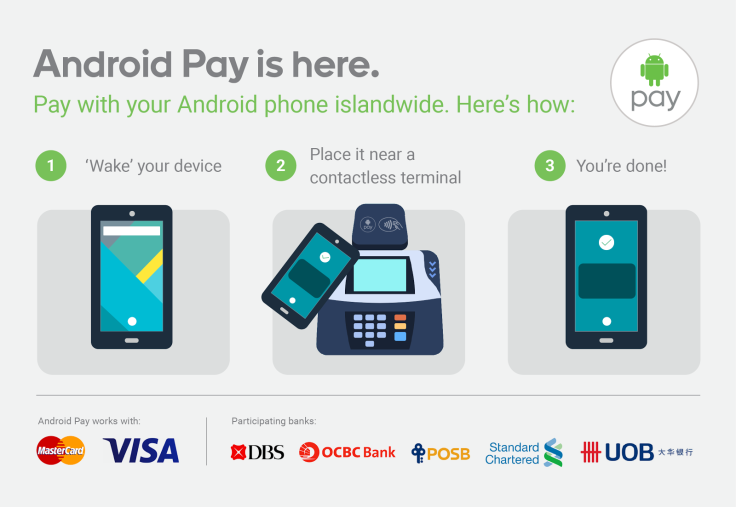 Google has launched its mobile payment platform Android Pay in Singapore, making it the first Asian country and third overall after the US and the UK to receive the service. The launch of the mobile payment in the country comes just weeks after rival Samsung also launched its Samsung Pay in Singapore.
Android Pay for Singapore, according to Google's Blog, will work with MasterCard and Visa cards from DBS, OCBC Bank, POSB, Standard Chartered Bank and UOB. More banks should lend support as time passes by.
Unlike Samsung or Apple Pay, Google's Android Pay doesn't require fingerprint scans, but the device needs to be NFC-enabled and must run on minimum Android 4.4 KitKat or above. To make a payment one just needs to tap the phone to the contact less payment terminal and it should reflect immediately. This, according to Google, is a safer way to protect the user's financial details as the method does not share the actual credit or debit card number with the merchant.
Merchants, of course, have to support the payment method and Google has managed to bring on board some popular ones like McDonald's, BreadTalk, Starbucks, FairPrice, Mango, Lacoste, Adidas and Subway. To check the full list of merchants supporting Android Pay in Singapore, click here.
Additionally, Android Pay can also be used on online merchandising and services apps like Uber, Deliveroo and Singapore Airlines. Users will just need to click the Android Pay button instead of entering their entire details.
Android Pay is only available in three countries compared to its counterparts Samsung and Apple. However, Google says it wants to bring on board a range of merchants and banks before it can launch in other countries. Australia is next on Google's list to get the payment platform later this year.