Andy Burnham will quit Jeremy Corbyn's top team to concentrate on his campaign to become the first elected Greater Manchester mayor next year.
The shadow home secretary made the announcement as he addressed Labour's annual conference in Liverpool today (28 September).
Burnham, who ran against Corbyn in Labour's 2015 leadership election, said he was "sad" to see some Labour MPs "seem to prefer fighting each other than the Tories".
"I have asked Jeremy to plan a new shadow cabinet without me, although I will of course stay until it is in place," he said. "It has been my privilege to represent our great Party these last 10 years. But, at times, the last 12 months have made me profoundly sad.
"Sad to hear the achievements of our Labour Government, in which I was proud to serve, being dismissed as if they were nothing. Sad that old friendships have been strained; sad that some seem to prefer fighting each other than the Tories."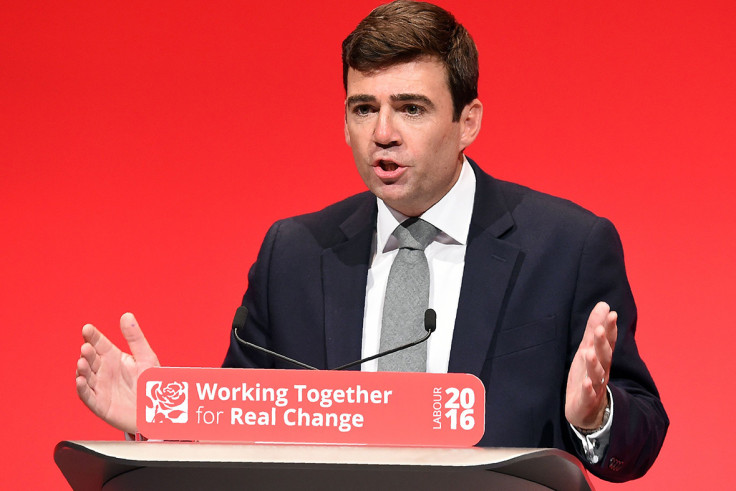 Burnham had faced criticism, particularly from Michael Dugher, for failing to follow tens of other former shadow ministers and quit Labour's front bench in protest over Corbyn's EU referendum performance. The Leigh MP addressed the issue during his speech.
"I have an old-fashioned belief – that a Labour Government of any kind is a million times better for my constituents in Leigh than any Tory Government and that is more likely to happen if Labour is united," Burnham said.
He also admitted that Labour were "too slow" to realise the EU was not working for is constituents in the north and the midlands, with 70% of Labour seats backing a Brexit.
"Labour voters in constituencies like mine are not narrow-minded, nor xenophobic, as some would say," Burnham said.

"They are warm and giving. Their parents and grandparents welcomed thousands of Ukrainians and Poles to Leigh after the Second World War.

"And today they continue to welcome refugees from all over the world. They have no problem with people coming here to work."
"But they do have a problem with people taking them for granted and with unlimited, unfunded, unskilled migration which damages their own living standards. And they have an even bigger problem with an out-of-touch elite who don't seem to care about it. If Labour now argues for the status quo, it will look like we have abandoned them too."
Burnham backed a so called "soft" Brexit, which he described as keeping the UK open, but dealing with people's concerns. "Because the truth is, a hard Brexit would hit these Labour areas hardest of all," he said.
Burnham's speech comes ahead of Corbyn's addresses to conference on Wednesday afternoon. The Labour leader has triggered a row over immigration within the party after he said he was "relaxed" about free movement of people.