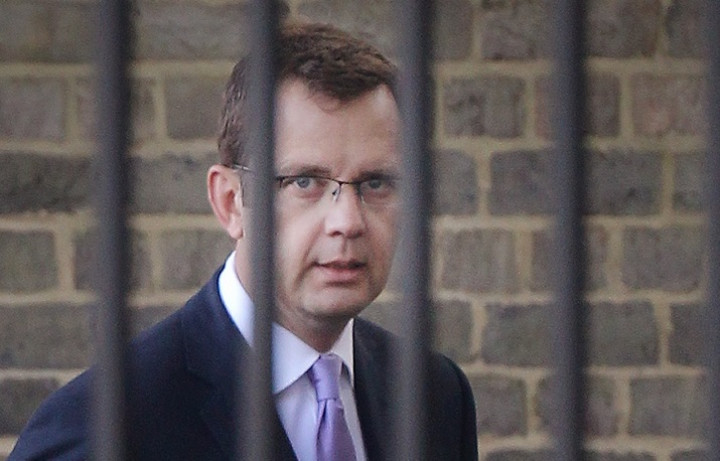 Andy Coulson is making friends in jail and walking around HMP Belmarsh dressed in "splendid" clothes, claimed his fellow ex-News of the World inmate Neville Thurlbeck.
Thurlbeck lifted the lid on life behind bars for Coulson, the former editor and Downing Street director of communications, who was jailed for phone hacking.
He spoke after being released after serving 37 days of a six-month term, of which he spent 22 hours a day banged up with Coulson, 46, in the same cell.
Thurlbeck, 53, who was an award-winning chief reporter and worked under Coulson at the defunct News of the World, insisted other inmates were friendly.
"Andy Coulson is in good spirits and is getting on well with his fellow inmates. I have witnessed nothing other than the hand of friendship to both of us," he said.
Coulson was jailed for 18 months for his part in phone hacking while at the News of the World. He remains locked up in tough HMP Belmarsh, even though white-collar crooks can usually expect to be moved to a lower-catergory open prison.
Reports by IBTimes UK that an inmate pushed Coulson has that fellow prisoners had been aggressive to Andy Coulson were incorrect, claimed Thurlbeck.
"Reports that he has been attacked are totally untrue. We would like to put the record straight on this," he said.
Coulson was initially paid more by the Tories than David Cameron gets as prime minister when he started his role in 2010 at the Conservatives' central office before taking a pay cut to work at 10 Downing Street.
Despite the fact that the NoW often trumpeted its role in helping to send criminals to prison, Coulson is said to have been made to feel very welcome in jail.
In fact, he is so comfortable, he has taken to wearing "splendid garb" on the wing in front of other inmates. According to Thurlbeck, his attire comprises a polo shirt and jeans.
But jail has been no holiday camp for the 'News of the Screws' two, claimed Thurlbeck. He found being locked up "boring" and admitted jail life was nothing like the soft-touch holiday-camp image of tabloid newspaper lore.
"I don't wish to complain in the slightest, because it's what I expected a British prison to look like. I can disabuse anybody of the notion that it's a holiday camp. There are interminable hours of boredom and pain," he said.
"The beds are made of what I can only describe as giant pencil rubbers and over time, your hips and shoulders and elbows start to ache. It is pretty grim. It's what I expected but I am glad it's all behind me now."
Thurlbeck continued his rehabilitation post-prison by arguing against press law and the "chill winds of censorship" in an update on his blog of an Oxford Union address he took part in on July 2.
During his address, Thurlbeck called a phrase adopted by his former employer for tackling phone hacking in its papers "hideous".
Will Lewis, the former editor of The Daily Telegraph, was hired to "drain the swamp" by News International, a term that infuriated Thurlbeck.
He later published Lewis' home address on his blog and, as a result, was held on suspicion of intimidating a witness.