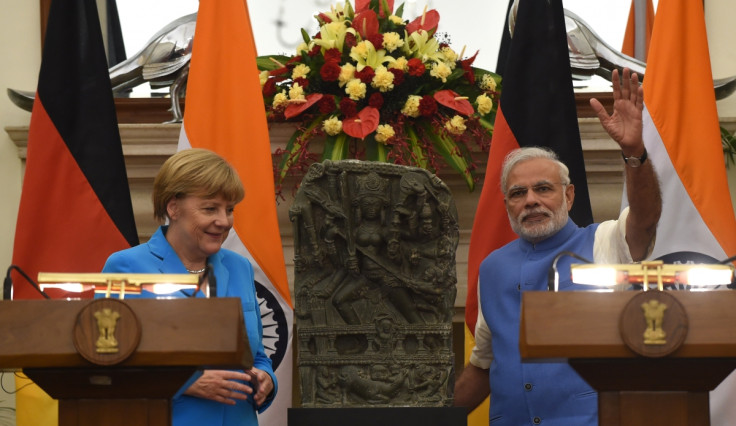 German chancellor Angela Merkel has returned a stolen 10th-century statue of the Indian goddess Durga during her trip to India. The statue went missing from a temple in Jammu and Kashmir during the 1990s and was only discovered in 2012 when the Archaeological Survey of India received a tip-off that it was in the Linden Museum in Stuttgart, Germany.
Prime minister Modi thanked Merkel for returning the statue during a media event on 5 October. The statue is said to be a symbol of the victory of good over evil, portraying Durga slaying the demon god Mahishasura. The return of the Durga statue comes a few weeks before India celebrates Durga Puja, a worshipping of the Hindu goddess.
It is believed that the statue was smuggled out of India by art dealer Subhash Kapoor, who was arrested at Frankfurt International Airport in October 2011 and extradited to India the following year.
Kapoor was wanted for his involvement in a number of other art smuggling cases, particularly stolen artefacts from temples in south India. In 2008 Kapoor stole an 11th-century statue of a dancing Shiva god from a temple in Tamil Nadu and sold it to the National Gallery of Australia for $5.6m (£3.7m).
Many took to Twitter to welcome Modi's announcement of the return of the statue, with some calling it a "precious gift". Others praised Modi's part in the attempts to bring back the stolen statue.
Merkel landed in India on 4 October and a crucial deal was signed between the country and Germany on the opening day of her visit. The two countries have agreed to introduce fast-track approvals to make it easier for German firms to operate in India. The deal comes after Modi's visit to Germany in April where he made appeals for more industries to begin manufacturing in India.