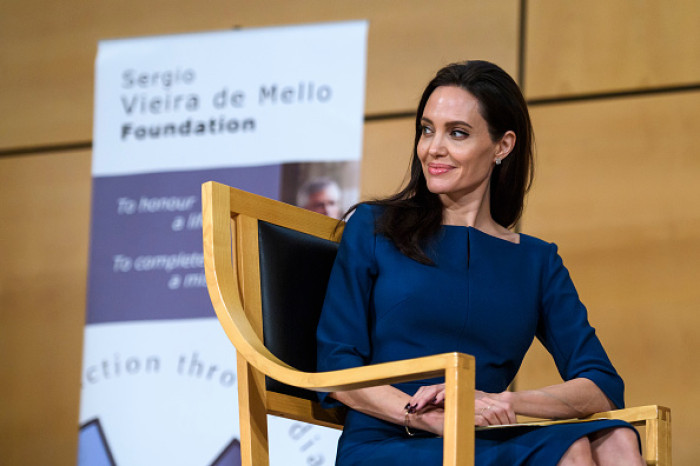 Hollywood star Angelina Jolie won praise after delivering a rousing speech at the United Nations offices in Geneva on Wednesday (15 March) in which she described herself as both " a proud American...and an internationalist."
The Oscar winning actress and activist, 41, was attending the annual lecture of the Sergio Vieira de Mello Foundation, Mail Online reports.
After listening to a presentation by UN High Commissioner for Refugees Filippo Grandi, the mother of six took to the stage to deliver her own speech.
In an impassioned address, Jolie, who is a United Nations High Commissioner for Refugees (UNHCR) special envoy, highlighted the values of the UN as she espoused the need for greater compassion and unity in the world.
"We need to stand true to the ideals of the UN ... we are the UN," she said.
"There is no shortcut to peace and security ... I am a proud American and I am an internationalist. I believe anyone committed to human rights is. It means seeing the world with a sense of fairness and humility and recognising our own humanity in the struggles of others.
"It stems from a love of one's country, but not at the expense of others. From patriotism, but not from narrow nationalism. And that a strong nation, like a strong person, helps others to rise up and be independent. If governments are not keeping the flame of internationalism alive, them we must."
Wearing a navy pencil dress with a square neckline, Jolie spoke eloquently as the attendees listened closely.
Reacting to the Maleficent actress's speech on Facebook, one impressed attendee said: "This was beautiful and amazing. It really made me feel hopeful knowing that there are people in some postions [sic] of power who truly care."
Another added: "Angelina = the adress [sic] of peace and love in this world."
On Tuesday, Jolie gave a lecture at the Centre for Women, Peace and Security in London as she embarked on a new master's course on the impact of war on women.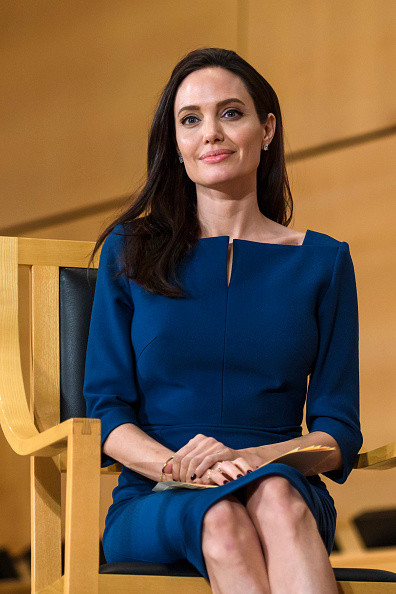 Ahead of the speech, Angelina told London's Evening Standard: "I'm a little nervous, feeling butterflies. I hope I do well. This is very important for me."
The actress addressed a class of students taking the same-titled postgraduate course, Women, Peace and Security. She explained to the students what motivated her work as United Nations Special Envoy.
Students shared pictures from the lecture and called her presentation "wonderful".
"She'll make an amazing visiting professor," said one post-graduate student. "So honoured to hear her inaugural lecture at LSE on sexual violence, rape, working with refugees."
Jolie co-founded the Preventing Sexual Violence Initiative - aiming to end the stigma suffered by survivors of sexual violence and children born of rape - five years ago.