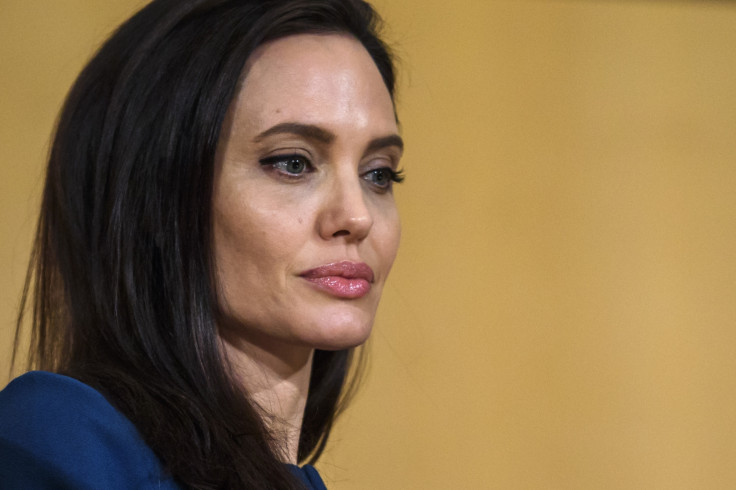 Angelina Jolie is reportedly not "comfortable" about letting former husband Brad Pitt have more control over their children as she is still coming to terms with the bitter separation. Although the couple has agreed to resolve the issue amicably, reports suggest that the actress is not too happy about letting the children spend more time with their father.
"Angelina's not at all comfortable with the idea of being separated from her kids; just talking about it can make her cry. It's hard for her to imagine Brad taking them all overseas without her; she would not like it if the shoe was on the other foot. There's a huge double standard but she doesn't see it that way," a source told Hollywood Life.
After keeping a low profile for months since their divorce announcement, the A-list actors are slowly embracing media spotlight. The actress was recently spotted at the LAX airport with the Jolie-Pitt brood, Maddox, 15; Pax, 13; Zahara, 12; Shiloh, 11; and 8-year-old twins Knox and Vivienne on Father's Day on 18 June.
The 53-year-old Allied actor was reportedly not happy as he spent the special day alone, away from his children.
"He's not complaining, but he had planned to spend some time with them for Father's Day. He was working on his place to make it special for them, adding a new skateboard ramp," another source told the news outlet.
Jolie has previously admitted that her family is going through a very difficult time but said she was optimistic that her family will grow stronger eventually. "As I said, we are and forever will be a family. So that is how I am coping. I am coping with finding a way through to make sure this somehow makes us stronger and closer," she told BBC in February this year.
Pitt, meanwhile, is coping up with all the stress by attending the Glastonbury Festival. The actor was spotted posing cheerfully with his female fans along with pal Bradley Cooper.