After rumours of Angelina Jolie's "secret romance" with a British businessman hit the internet, a report claimed the actress was rushing through her divorce from Brad Pitt. There are also claims that the Oscar winner wanted to adopt another baby with her rumoured new lover – hence the rush. Allegedly, the Maleficent star wanted to add to her brood of six, but Pitt was not as keen.
However, the sensational claims have since been quashed by debunking site Gossip Cop, who issued a report assuring fans that the actor's romance and divorce rush are "inaccurate".
The latest adoption rumour is based on an old In Touch article that made false claims about Jolie wanting a seventh child before she filed for divorce in September 2016.
Adding to the unverified reports, a Celebrity Insider article recently claimed the actress was eager to wrap up her divorce to move on with her "new man".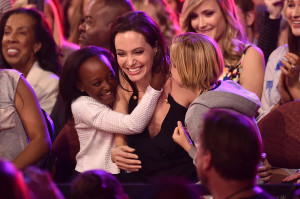 "Angie desperately wanted another baby, but Brad always said no when she would bring it up, he felt their family was complete and that Angelina was crazy for wanting another kid," the original report had quoted a source as saying.
The sensational report continues, "Angie feels her new guy, if it works out, could propel her out of Hollywood and into the next phase of her life – the serious political arena."
While the adoption report seems sketchy, rumours of Jolie's secret rendezvous have been widely reported. A source told Hollywood Life, "She struggles to find time for herself, so during the infrequent times Brad has the children, Angelina organises romantic rendezvous with the British hottie."
Despite the outrageous claims, Gossip Cop maintains that neither is Jolie involved with any UK businessman nor is she planning to extend her family.
The actress shares six children with Pitt, they are Maddox, Pax, Zahara, Shiloh, and twins Knox and Vivienne.