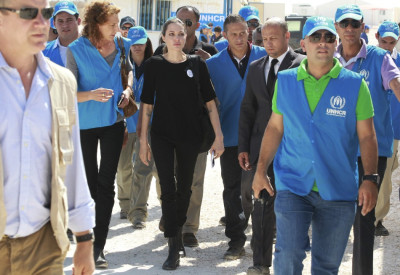 Hollywood star Angelina Jolie has visited a Syrian refugee camp in Jordan in her role of UN ambassador.
Jolie, 37, arrived at the Zaatari camp near the city of Mafraq, close to the Syrian border, to bring media attention to the growing refugee crisis rippling through Syria's neighbours.
Accompanied by UN refugee chief Antonio Guterres and Jordanian foreign minister Nasser Judeh, the actress met refugees who told her horrific personal tales of death, injury, loss and brutality in Syria.
"Body parts separated and burned people being pulled apart like chicken - a little 9-year-old girl said that," Jolie said.
"My house was burned, my son and four nephews were killed - put up against a wall and sprayed with bullets," a woman told her.
Zaatari holds about 30,000 of the estimated 250,000 Syrians who have fled the civil war burning much of Syria to find shelter in Jordan, Turkey, Lebanon, and Iraq.
About 2,000 refugees are believed to cross the Syrian borders every day.
"I am grateful to Jordan and the border countries for saving lives. It's an extraordinary thing," Jolie said.
"We encourage the international community to support the people here until one day they can go home.
"The camp needs massive international funding. [Its] conditions are still not acceptable," said Guterres.
Jolie was appointed as special envoy of Guterres in April.