He was a heartthrob back in his heyday in the likes of Deliverance and Coming Home, but Jon Voight has made more headlines for his enduring high-profile feud with daughter Angelina Jolie in recent years.
However the 78-year-old actor proved he's still got it in terms of acting skills, and his stamina in the bedroom, as he participated in a drug-fuelled orgy with multiple women in an X-rated scene from the latest episode of TV series Ray Donovan.
Voight plays Mickey Donovan in the drama starring Liev Schreiber, 50, and is seen bending women over and smacking their behinds while smoking an unknown substance and snorting cocaine in the shocking scenes.
The Hollywood legend plays the father of lead character Ray in the Showtime drama, which is now in season 5.
The episode sees his character Mickey – who is a thug and "fixer" for the Hollywood elite – defy his son's wishes by holding the massive drug-fuelled orgy.
Celebrating a lucrative movie deal, Mickey arrives back at Ray's home with his friend Daryll, 12 prostitutes and copious amount of cocaine – without his son's permission.
Looking casual in a white T-shirt, the scene gets more bizarre when he begins using the ladies' backsides as bongos. The debauchery takes a turn for the worse when Mickey's granddaughter Bridget, played by Kerris Dorsey, arrives home to catch him smoking marijuana and holding onto his genitalia.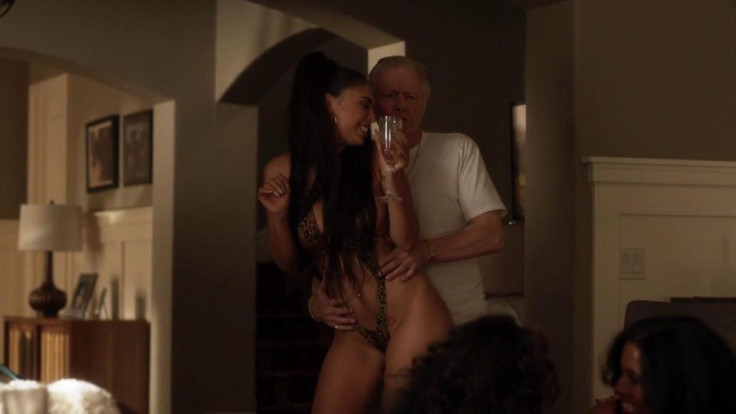 The licentious scene isn't too unexpected for the generally shocking show, and Voight's character has become a bit of a hit, earning him a Golden Globe in 2014.
Despite his onscreen success in recent years, Voight has made more headlines around the world with his tempestuous relationship with Jolie.
Voight was estranged from his two children, Jolie and son James Haven, following his split from their mother Marcheline Bertrand after he cheated on her, who subsequently passed away in 1980. They reconciled in 2007 after her death.
A source told Express at the time: "As Jon grows older he's realising the importance of family, and longs to be a part of his daughter and grandchildren's lives. It breaks his heart to be kept away. Since Angelina's mother died, Brad Pitt has been gently urging her to reconcile with her father, if not for her sake, then so the children can have their grandfather in their life."