Paraguay's Congress was set ablaze on Friday (31 March) by angry demonstrators opposing a constitutional amendment that would allow President Horacio Cartes to run for re-election in 2018. Several people, including politicians, police and journalists, were injured in the violence, but the exact number was not clear.
Police had to use tear gas and rubber bullets to control the unrest that began soon after the Senate secretly voted to pass the amendment.
President Cartes called on the protesters to remain calm and avoid violence. "Democracy is not conquered or defended with violence and you can be sure this government will continue to put its best effort into maintaining order in the republic," he wrote in a statement issued on Twitter.
Opponents of the constitutional change believe that the new measure would weaken the democratic institutions of the country. They also alleged that the secret voting, which saw a total of 25 lawmakers in the 45-member upper chamber voting for the change, was illegal.
"A coup has been carried out. We will resist and we invite the people to resist with us," Reuters reported senator Desiree Masi from the opposition Progressive Democratic Party as saying.
Television images reportedly showed protesters storming the Congress, breaking windows and clashing with the police. Firefighters were seen struggling to extinguish the fire on the first floor of the building. Several politicians were inside the building when protesters set it ablaze.
A voting on the amendment was set to take place in the 80-member Chamber of Deputies early on Saturday but was cancelled following the violent protests.
"I call for calm," Hugo Velazquez, the chamber's president, said on Friday. "Tomorrow we will not take any decision; we will not hold a session."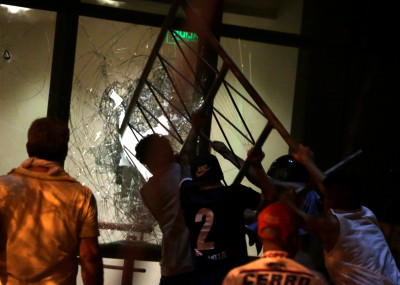 After having endured a brutal dictatorship that eventually ended in 1989, Paraguay passed a new constitution in 1992 prohibiting re-election of presidents. Any change in this provision of the constitution would allow the incumbent president and his successors to seek re-election if they wish to remain in power in future.