The leaders of the 2014 pro-democracy protests, a few politicians and activists in Hong Kong have reportedly been informed by police that they are to be prosecuted for allegedly causing public nuisance. The crackdown comes a day after the semi-autonomous state elected China-backed Carrie Lam as its first female chief executive.
Those who are likely to be charged include Occupy Central protests co-founders Benny Tai Yiu-ting, Chan Kin-man and Reverend Chu Yiu-ming, along with former core members of the Hong Kong Federation of Students Tommy Cheung Sau-yin and Eason Chung Yiu-wah.
According to local media reports, the protesters are to be summoned to the police headquarters in Wan Chai in northern Hong Kong where they are expected to face arrest. Chan Kin-man said he will go to court on 30 March.
The protesters are those from the Umbrella Movement who, in 2014, staged an unprecedented sit-in to challenge China's decision to reject open nominations for candidates for first-ever elections for Hong Kong's leader in 2017. They demanded completely free elections without Beijing's vetting of candidates.
Legislator Tanya Chan, who is one among those likely to be charged, called the move a "poisoned chalice" for Lam intentionally designed by the city's incumbent and unpopular leader Leung Chun-ying, according to South China Morning Post.
The protesters also noted the timing of the news about their prosecution.
"The prosecution has come a day after the CE [chief executive] election. Obviously the government didn't want to affect the election and the campaigning," Chan Kin-man, a sociology professor, said.
Former legislator Lee Wing-tat believes the prosecutions are aimed at humiliating Lam.
"Leung doesn't believe in the need to mend the social rift. He seems to be setting the tone and wanting Lam to follow his hardline approach," Lee said.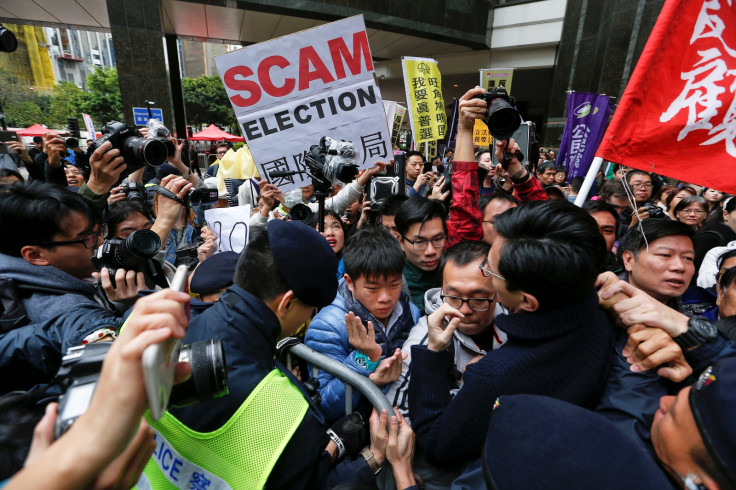 The new chief said she had "no knowledge" about the prosecution. It was decided by the "current administration" and the "actions are undertaken independently by the Department of Justice under the Basic Law", Lam said.
She added that while she wants to "unite society and bridge the divide that had been causing us concern, any such action should not compromise the rule of law in Hong Kong".
The report of protesters' prosecution comes amid Lam vowing to have a "smooth and effective" transition of power, despite heightened tensions, Reuters reported.
Many of the city's pro-democracy politicians and activists were opposed to Lam's selection by the election committee influenced by Beijing and pro-establishment loyalists. Lam will formally take charge of her post on 1 July.
Pro-democracy campaigners are said to doubt Lam's leadership partially due to her strong working relationship with Leung, a pro-Beijing leader. It was Leung who ordered the firing of tear gas on protesters in the 2014 movement.