A Syrian man posing as a refugee, identified as Saleh Nejar with links to the militant Kurdistan Worker's Party (PKK), has been confirmed as the suicide bomber behind a massive explosion in the Turkish capital Ankara which killed 28 and injured 61 on 17 February.
Turkish media reported that the Syrian national was identified by fingerprints taken when he entered Turkey. The pro-government Daily Sabahnewspaper reported Nejar is believed to have crossed over the border into Turkey with a group of other refugees. Nine have been arrested in connection with the blast
Turkish Prime Minister Ahmet Davutoglu told reporters the PKK and its Kurdish allies in Syria had collaborated with rebels in Syria to carry out the attack. "The attack was carried out by the PKK together with a person who sneaked into Turkey from Syria," Davutoglu was quoted by AP as saying.
The PKK is allied to the Kurdish YPG militia in northern Syria, which has been under intense Turkish bombardment as it makes advances on Aleppo.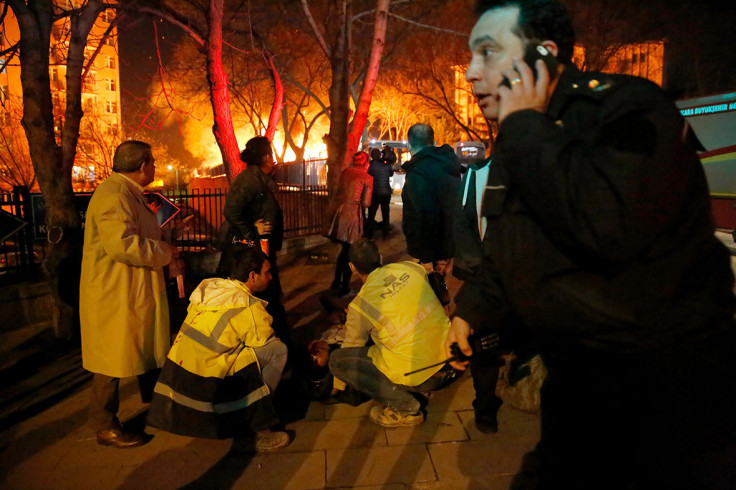 The car laden with explosives was detonated near the Turkish General Staff headquarters, the Prime Ministry, Parliament and Defence Ministry. The blasts hit a convoy of vehicles carrying military personnel. Some civilians are reported to be amongst the dead. The attack has been widely condemned by leaders around the world.
In a statement released several hours after the attack, President Recep Tayyip Erdogan said Turkey was more determined than ever to use "its right to self-defence". He said: "Our determination to respond in kind to attacks taking place inside and outside our borders is getting stronger with such acts."
Turkish authorities promised swift retaliation for the attack. In the aftermath of the bombing jets conducted a series of targeted air strikes on 60-70 PKK fighters in northern Iraq.