Police in Turkey have arrested nine alleged Islamic State (Isis) members in Gaziantep, who are alleged to have plotted a suicide bomb attack on the Istanbul headquarters of an unspecified political party.
Regional officials said two suspects were detained following a car chase on 30 October, just days before Turkey's crucial legislative elections. Turkey's ruling Justice and Development Party (AKP) regained a majority in the national polls, a result viewed as a vote of confidence in President Recep Tayyip Erdogan's stance particularly towards issues of security.
Seven more members of the Gaziantep cell were detained in subsequent raids and sound to possess grenades and explosives, according to Reuters, which quoted a statement by the local governor's office.
"The group members were caught with the vehicles, grenades, explosives and weapons they were going to use in the attack. Bloody attacks aimed at creating an atmosphere of fear and chaos before the parliamentary elections were prevented," it said.
Turkish prosecutors have said there was a strong link between the bomb attack in Ankara in October, which killed more than a hundred people, and IS operatives in Gaziantep.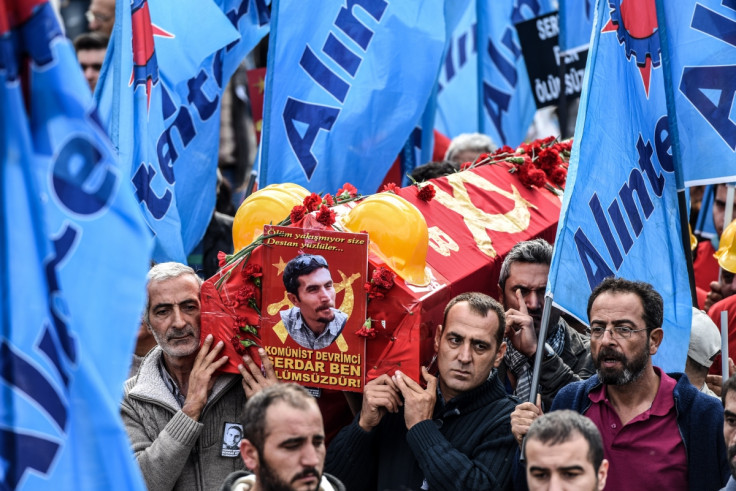 No individual group has ever claimed responsibility for the bombing but in the immediate aftermath of the attack, dozens of individuals with alleged links to IS were detained across Turkey. Suspicion also fell upon the PKK, the militant Kurdistan Workers' Party, which is in open war against the Turkish state in many ethnic Kurdish areas of the country.
Tensions have soared in Turkey since July, when a bombing killed dozens of left-wing activists in the southern Turkish city of Sanliurfa. Although the suicide bomber was reportedly an IS sympathiser, Kurdish militants immediately blamed the attack on Turkey's failure to stem the spread of IS and launched a series of retaliatory attacks on Turkish security forces.
On 3 November, Turkish police arrested 44 supporters of the popular moderate cleric Fethullah Gulen in what politically motivated crackdown on supporters of Erdogan's main rival.
Among those arrested are police chiefs and administrators, who were reported to have acted "beyond their legal authority". Gulen, a pluralist, has been forced into exile in the US.