Anonymous continues to wage cyber-war on Israel in protest at its attack on Gaza knocking hundreds of government websites offline including those belonging to secret service Mossad and the Israel Defence Force (IDF).
Over the last 24 hours dozens of major Israeli government websites have been knocked offline as part of a continuing cyber-attack against the country by members of the online hacktivist collective known as Anonymous.
Announced by the @AnonymousGlobo Twitter account, the attacks were also in part a retaliation against the killing of 22-year-old Tayeb Abu Shehada who was wearing the iconic Guy Fawkes mask associated with the group when he was shot by an Israeli soldier in the West Bank.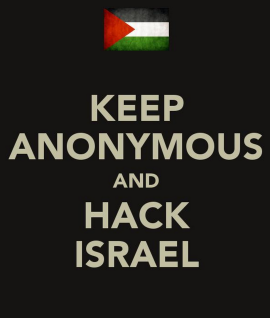 While many of the official Israeli government websites are still offline at the time of publication, some which had been attacked were back online, including the IDF website.
The website belonging to Mossad, the Israeli secret service, is also back online having been offline intermittently for the last seven days.
Anonymous has listed over 100 websites it has taken offline as part oft eh attacks, as well as posting details for those looking to take part on how to download automated tools which carry out distributed denial of service (DDoS) attacks.
#OpSaveGaza
The attacks are part of a widespread campaign called #OpSaveGaza which which began earlier this month and which was initiated by the AnonGhost Team group of hackers.
The campaign has targeted multiple Israeli websites in the last couple of weeks claiming at one point to have taken thousands of Israeli websites offline.
It is hard to estimate just how much impact the action is having, with Israel typically claiming that such distributed denial of service attacks have little to no impact.
AnonGhost Team claimed last week to have expanded the remit of its attacks to the US, claiming that the "US government = Israel governrment" in a statement to the IBTimes UK. The group, which was founded by a hacker called Mauritania Attacker Admin, claims it defaced 35 US government websites.