Anonymous hackers pledge new 'nationwide' operation to crush 'evil' white supremacists
The hacktivists are not happy with the response from US president Donald Trump.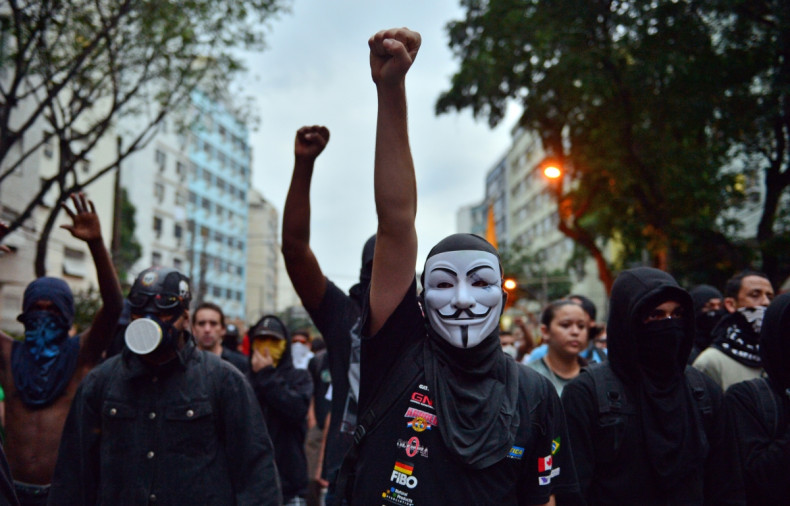 Members of Anonymous, the loose international collective of hackers and internet activists, have pledged to ramp up cyberattacks against white supremacist websites and protesters in response to the violent rallies that gripped Charlottesville, Virginia, on 11 and 12 August.
In a video posted online (15 August), the group said one "nationwide" event – dubbed "Day to Denounce" – would take place on Friday 18 August. This was on top of "OpDomesticTerrorism" which has already resulted in some extremist websites being taken offline.
"Anonymous has made it clear that it will not stand by as this bigotry continues to perpetuate. We are taking a stand against an intolerant evil that must be crushed," a statement read.
One Anonymous-linked Twitter profile, @TheAnonJournal, tweeted: "If you have a Confederate Statue in your city/town, it's time for it to be taken down. Denounce The Confederacy."
On 11 August, an "alt-right" march took place in Charlottesville with attendees openly performing Nazi salutes and chanting racist slogans.
A day later, a second rally descended into chaos and resulted in the tragic death of Heather Heyer, a 32-year-old counter-protester who was killed after being hit by a car, reportedly driven by 20-year-old man James Alex Field, later charged with second-degree murder.
Some members of Anonymous sprang into action, launching heavy distributed denial of service (DDoS) attacks in order to force websites to become overwhelmed with traffic. As the dust settled, the hacktivists condemned the response of US president Donald Trump.
"We have witnessed once again the failure of the so-called president to lead," the video said. "It took him more than 48 hours to call out these [white] supremacists by name, and after intense pressure from his party and from the nation.
"It is clear that Donald Trump's allegiances are with the likes of Steve Bannon, David Duke, and Richard Spencer; those who claim to stand for free speech, but only when it suits their agendas of hate. Those who believe that they indeed are the master race."
On 14 August, a post on extremist website "The Daily Stormer" claimed that it had been hacked by Anonymous members after an offensive article about Heyer was posted online. This was later dubbed a self-orchestrated "false stunt" by those linked to the internet activists.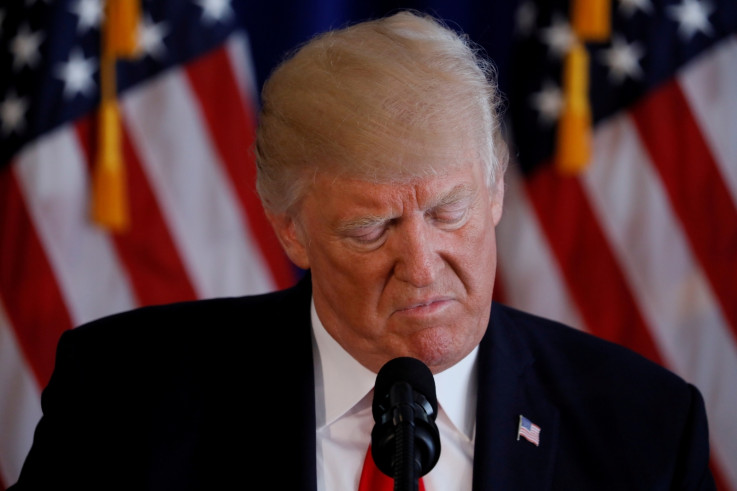 The hacktivist group condemned the response of Donald Trump
REUTERS/Jonathan Ernst
One popular account, @YourAnonNews, tweeted: "We have no confirmation that Anonymous is involved yet. Looks more like a DS [Daily Stormer] stunt."
And in the latest video from the group, which is simply titled "We Are Angry", the statement takes the time to hit out at the claim.
"In using our name, he has made us angry," the video stated, referencing its alleged author Andrew Anglin, who founded and maintained the controversial website.
"If you value your life, Mr. Anglin, you will need to flee the country. We will find you," the hackers warned, adding: "To everyone else who shares the white supremacist ideology, and that includes the likes of Richard Spencer, Jason Kessler, and David Duke. You are not safe."
The Daily Stormer has since been blacklisted by GoDaddy and Google's hosting services, but Anonymous believes there is still more work to do. According to technology website Motherboard, the website has already shifted to a version hosted on the dark web.
"[We] will continue to out these supremacist Klansmen and make sure the proper authorities are aware of who and where they are," the video stated.
"We will ensure their employers take swift action against them. There are good Americans in need of jobs and it would be a shame for Nazis to be occupying them."
The video even contained a threat to the Westboro Baptist Church – a long-time foe of the hacking collective. "If you attempt to show up to Heather Heyer's funeral, it will be your last. Our campaign will not stop until your ideology of hate is dead and buried forever," it claimed.
A Twitter account linked to the operation did not immediately respond to request for comment.
On 14 August, protesters in North Carolina used rope to drag down a nearly century-old statue of a Confederate soldier during a rally against racism.