Anonymous hackers wade into Miami speeding video spat by doxing police officer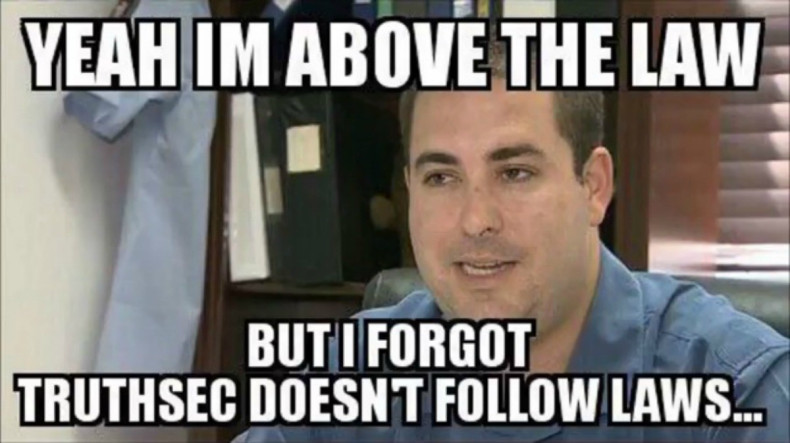 In an unusual turn of events, members of the Anonymous hacking collective have got involved in an ongoing row going on between a Miami policeman and a civilian who criticised his driving and have decided to reveal personal details about second policeman, who had been harassing the civilian on social media.
On the afternoon of 29 January, Daniel Fonticiella, a police officer with the Miami-Dade Police Department, made the mistake of speeding down a freeway at 100mph without his siren on. Unfortunately for him, Claudia Castillo decided to follow him at 80mph and then get him to pull over in Miami.
When Fonticiella got out of his car and came to her window, Castillo began interrogating him about why he was going so fast while recording him on her smartphone camera before telling him off for speeding. However, she also decided to upload the video to the internet, where it was eventually picked up by local Miami TV news channel CBS4.
Lieutenant Ivan Javier Ortiz, the president of the Miami Fraternal Order of Police (FOP) union, was angry that Castillo put the video on the internet and involved local media, as well as filing an official complaint, which led the police department to conduct a formal internal affairs investigation of Fonticiella. Thus, he decided to "dox" Castillo – ie, search for public and private and identifying information about her on the internet with a malicious intent.
He published her contact information, including her telephone number and email address on his Facebook account, asking his friends to contact her and give her a piece of their mind.
Ortiz also discovered that Castillo had previously been cited herself for speeding, speeding in school zones, driving without a license and accidents. So he decided to stalk her social media profiles, downloading photos and then using them in derogatory tweets about her, such as "Wannabe cop Claudia Castillo likes to drink and drive recreational vessels."
According to CBS4, Fonticiella has been commended multiple times for excellent police work, but in the last decade he has also crashed his car seven times. Ortiz feels that Castillo shouldn't have criticised Fonticiella and that police officers are trained to drive at high speeds.
However, Anonymous isn't impressed by this turn of events and decided that their #TruthSec branch should give Ortiz a taste of his own medicine by revealing his personal information on the internet too, in retaliation for his harassment of Castillo.
"It has come to our attention at Truth Sec, that Lieutenant Javier Ortiz of Miami Florida has been harassing and intimidating civilians, the same people he took an oath to protect," Anonymous said in its video.
"One of his latest fiasco's [sic] involves a civilian who witnessed another officer breaking the law. Because she confronted this other officer and made a formal complaint little Javier decided to make her his personal target, he doxed her. Now we all know Truth Sac loves a good dox, but not when it bullies or targets an individual for standing up against injustices. And because of this, we will not sit back quietly.
"They say, be careful what you do. You better watch your back. Be careful how you proceed. You better drive very carefully."
IBTimes UK has contacted the Miami-Dade Police Department and is waiting for a response.