In the on-going battle between Anonymous and the Ku Klux Klan over the protests in Ferguson, the hacktivist group has published the credit card details of Franck Ancona, the grand wizard of the local extremist group.
For the last two weeks Anonymous has been targeting the KKK after the local chapter - known as the Traditionalist American Knights of the Ku Klux Klan (TAKKKK) - began distributing leaflets in Ferguson warning any protesters that "lethal force would be used against them.
Anonymous took control of the main Twitter account of the KKK and almost two weeks later it remains in the hands of the hacktivists. The group has also been "doxxing" - publishing personal information online - of members of the TAKKKK and has even claimed it has evidence of strong links between the Ferguson police department and the TAKKKK - including officer Darren Wilson.
Protests erupted in Ferguson, and around the US this week in the wake of the grand jury decision not to indict Wilson for killing unarmed, black teenager Mike Brown.
Doxxed
Having already published the personal details of Frank Ancona, the grand wizard of the TAKKKK, Anonymous has now published the credit card details of the KKK leader on text-sharing website Pastebin, having previously published his phone number, email address, social security number and home address.
The group behind the on-going campaign - dubbed Operation KKK or #OpKKK - is a highly secretive off-shoot of Anonymous called NOWsec. It used the compromised KKK Twitter account to announce the publication of the leaked information.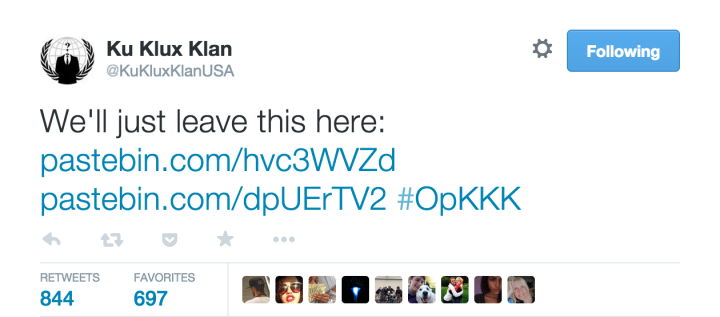 NOWsec has said it has a mole within the St Louis County police department who is feeding it information about officers who are also members of the KKK, part of the so-called Ghoul Squad which is made up of silent members of the TAKKKK.
The group has not published the evidence it has about Wilson's link to the KKK as it says it would threaten the life of its source, but says it continues to work to verify the links independently.
Ancona on camera
While Ancona has been outspoken in his reaction to the Anonymous spat, telling CNBC that he was "declaring war" on Anonymous, and then goading the online group for "hiding behind pathetic masks" in this odd Pastebin post, the Grand Wizard has taken the strange step this week of appearing on camera with Anonymous member Alex Poucher.
In the interview, carried out by News2Share, Ancona comes across as if threatening violence was the last thing on his mind and said the mainstream media - who he doesn't trust - have blown everything out of proportion.