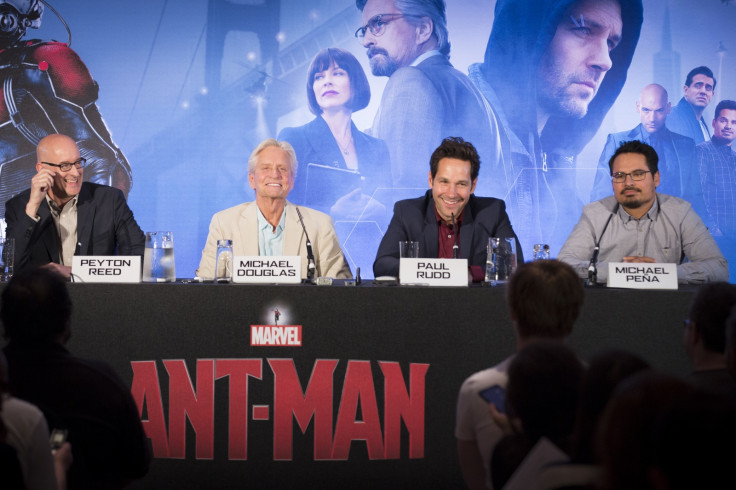 When you explain the plot of Ant-Man to those who don't know a lot about Marvel, some scoff at the idea of an ant being the focus point for a superhero movie. You're met with questions such as: "Does the superhero turn into an ant then?" or "How can something that small be impressive, and beat the bad guys?" But it seems that these are notions are ones that the upcoming film's cast and crew do not agree with after having working with the little creatures throughout the making of the movie.
Speaking at the European Press Conference in London yesterday (7 July), director Peyton Reed and stars Paul Rudd and Michael Douglas revealed how much they respect the tiny insects following filming Ant-Man, and how they "let them do what they wanna do" whenever they come across them in everyday life now.
Reed mentioned how while his admiration for ants wasn't necessarily a new thing, seeing their capabilities on set made him like them even more. "I'd like to think that I've always respected ants, but that level of respect has definitely increased throughout the making of the movie," he confessed, before laughingly saying: "It's important to note that also, no ants were harmed during the making of the movie in any way, so let's get that out the way."
"Until now..." Peña joked, referencing the unavoidable chance of stepping on a few ants on the way somewhere.
The Yes Man director even went on to admit that whenever he sees an ant now, he tries to speak to it and get it to do his bidding – much like what the characters of the movie can do with their six-legged allies.
Within the movie, lead characters Scott Lang (Rudd) and Hank Pym (Douglas) utilise all sorts of species of ant to help them carry out the task of taking down villain Darren Cross (Corey Stoll), and it was all the alternative sets of ants that impressed Douglas the most. "I just never knew there were so many possible characters. They're phenomenally interesting," he commented. "I mean, between working ants, flying ants, seeing all the different characters is great."
But the ants didn't just intrigue the cast but relax them too, as Douglas continued: "It was always a joy, after scenes, if we wanted to take a brief respite to look away at all the ant hills, watching them all at work. I found it very peaceful."
Much like Reed, Rudd's appreciation of ants has moved its way into his home-life following on from shooting the movie. "I'm not trying to sound cute or anything but even last week, I was standing by the sink and some ants started walking toward the coffee maker where I was making coffee," the Anchorman actor recollected. "Maybe in an earlier time, I'd have just given them a little flick, now I absolutely let them do what they wanna do and I stand back!"
Peña, who plays Scott's right-hand man Luis in the movie, didn't quite share the same sentiment towards the insects as his fellow co-stars however, saying with a smile: "I can't even believe it's made it this far, that question. They've said everything about ants that I could possibly say... I couldn't add anything to that." Before finally concluding, along with a straight face: "Ants are awesome, yay!"