Olympic bronze medallist Anthony Ogogo has claimed that he would 'smash' fellow middleweight Chris Eubank Jr if they ever met in the ring.
Ogogo made the comments on Twitter after he was asked by a fan whether he would be excited by the prospect of facing the 22-year-old.
"Very exciting. I'd smash Eubank Jnr #2Rounds," tweeted the Olympian who has yet to make a decision on whether he will remain amateur or join the professional ranks.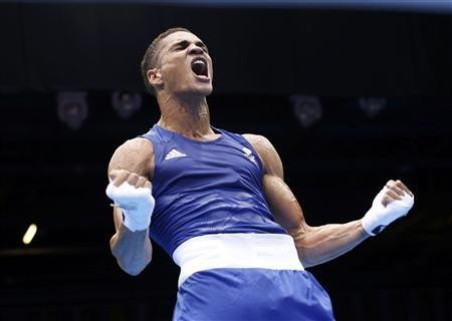 "What a joker just another trash talker," responded one person on Twitter, before Ogogo reiterated his point saying: "We'll see #2Rounds #Hype"
The 23-year-old has been in the headlines since winning a bronze medal at the London Olympics and has admitted that he will take plenty of time to decide upon the next step in his career.
Having defeated the world number one, and reigning world champion, Ievgen Khytrov of Ukraine en-route to claiming a medal, Ogogo will undoubtedly have plenty of offer from promoters hoping he decides to move into the professional game.
While Ogogo has enjoyed an impressive amateur career, Eubank Jr quickly made the jump to the professional ranks and has now won his first five bouts, with two coming by stoppage.
With a television deal on Channel Five, the middleweight contender is attempting to carve out a successful career and follow in the footsteps of his famous father who was a two-weight world champion.
Eubank Jr has also been outspoken in recent days, claiming he had 'schooled' European super-middleweight champion James DeGale in sparring.
The Olympic gold medallist from Beijing quickly dismissed the claims of the young hopeful with a response on his facebook page.
"To put the record straight, I did spar with Chris Eubank Jr today. I played with the kid," said DeGale.
"I was shocked how rude and disrespectful he was and I can only say he has a LOT to learn both inside and outside the ring.
"I'm actually embarrassed for him. He is more than welcome to come back to my gym for another sparring session, but I very much doubt he will!"