Anti-Austerity Protest: Number of demonstrators swells to 250,000 at Parliament Square in London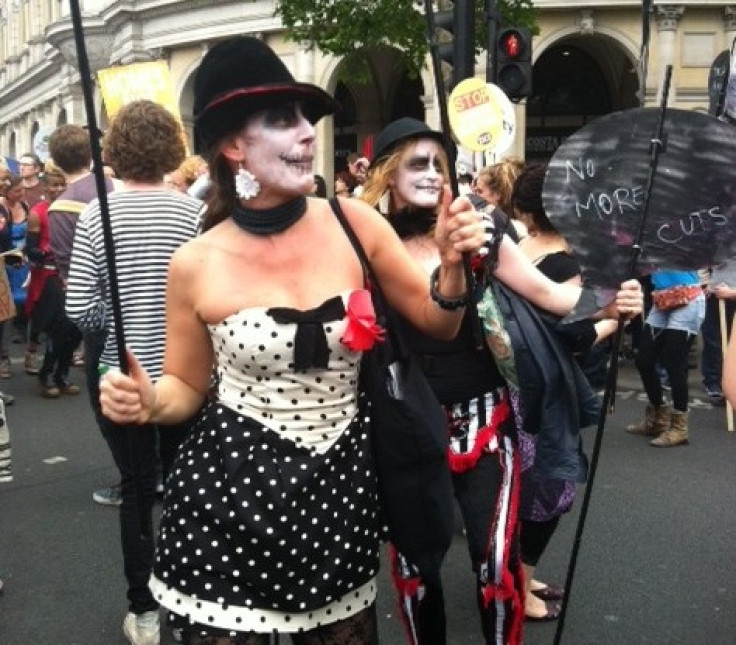 Organisers of the rally, the People's Assembly estimate that around 250,000 protestors have joined the march in London.
While the speeches were taking place, some of the protesters have set fire to placards in Parliament Square, chanting anti-capitalist slogans at police.
Supporters of the Spanish anti-austerity party Podemos also attended the protest. "What is happening here now happened four years ago in Spain," said one Spanish protestor who lives in London.
"In 2011, protestors from the 'indignados' movement stayed for days in public squares like this. It showed the need for change in Spain. You should do the same!'
Singer Charlotte Church spoke at the rally, calling austerity "unfair, unethical and unnecessary."
The 29-year-old said: "We are in one of the richest nations in the world and social inequality is unacceptable.
"I'm immensely proud to be here. I think this is a brilliant movement and it is for the common good. We are here to make a stand.
"I'm here today in a show of solidarity with everyone here. It's a massive turnout - everybody who thinks that austerity isn't the only way and thinks it is essentially unethical, unfair and unnecessary."
Martin McGuinness, deputy first minister of Northern Ireland, told the rally: "It is David Cameron's cabinet of millionaires – they are the people who are the real spongers.
"They are the people who are given free rein to live out their Thatcherite fantasies at the expense of ordinary, decent communities throughout these islands. Austerity is devastating these communities."
Jeremy Corbyn, who is in the running for the Labour leadership, also addressed the crowds in Parliament Square: "Let's go forward with confidence and optimism. This is a movement, it's absolutely not about ambitious individuals.
"It's a social movement of all of us that can change our society into something good rather than something that is cruel and divided."
© Copyright IBTimes 2023. All rights reserved.