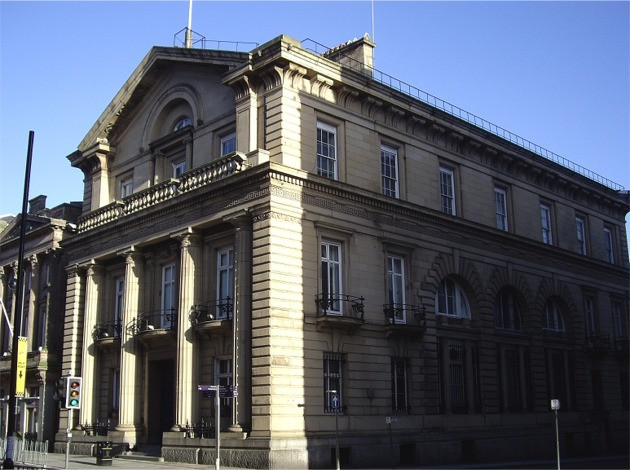 Social media users expressed outrage on Thursday (24 November) after the former Bank of England building in Liverpool city centre appeared to have been fit with an "anti-homeless" ramp. The fixtures, sometimes installed in public buildings, are used to prevent people from sleeping rough in doorways.
Footage emerged on Thursday of the wooden panel being fit on a frame in the doorway of the Grade I listed building on Castle Street.
The Liverpool Echo said it had approached the estate agents for the Bank of England building, Mason Owen, who are said to have told the newspaper they were not aware of the development.
One Twitter user posted a picture of the new addition to the Bank of England building's doorway, captioned: "Anti homeless ramp fitted overnight to a step on Castle Street, Liverpool. Absolutely disgusting."
Others lamented the lack of compassion they said was demonstrated by the act.
Other forms of what is often referred to as "hostile architecture" designed to cause discomfort therefore discouraging homeless people from sleeping in the areas, include studded paved areas, and sloping benches.
In 2012 the installation of benches in Camden sparked outrage because their design made them unsuitable for lying on.
Echoing the debate around the Bank of England fixture in Liverpool, critics of hostile architecture often argue it is designed to sanitise urban environments and brush the issue of homelessness under the carpet. However in an interview with Unpleasant Design in 2014, the creators of the bench defended it, saying:
"Homelessness should never be tolerated in any society and if we start designing to accommodate homeless then we have totally failed as a society."
This is not the first time the famous building has been involved in scandal relating to homelessness. In 2015, the building was occupied by anti-austerity protesters called "Love Activists" who took over the unoccupied building in order to highlight the number of people sleeping on the streets of Liverpool.
The occupation, which the activists said was designed to turn the building into a homeless shelter, came to an end after they were forcibly evicted by police. A number of those involved faced custodial sentences for their involvement.