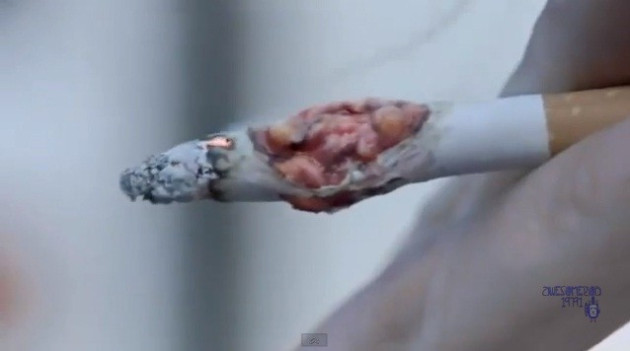 A series of graphic anti-smoking advertisements that show tumours growing on cigarettes while people smoke, are being launched in England.
The hard-hitting ads are part of the shock campaigns that were launched eight years ago and the first since the "fatty cigarettes" campaign of early 2004 which showed fats squeezed from the smoker's arteries dripping from the end of cigarettes.
Through the ads, the Department of Health (DoH) warns smokers that just 15 cigarettes can cause a mutation that can lead to cancerous tumours. The £2.7m campaign will run for nine weeks on televisions, billboards and online.
England's eight million smokers are also being urged to get NHS quit kits that are available free from pharmacies. The graphic ads have been launched following research that showed more than one in three smokers believe health risks associated with smoking are overplayed.
"What our evidence shows is that people don't personalise the impact of their own smoking. They don't understand what's going on in their own bodies, so that's why we're launching such a hard-hitting campaign," Chief Medical Officer for England Professor Dame Sally Davies told Sky News.
"It's to show them a real picture of what cancer looks like and what happens in one in two long-term smokers."
The tumour ads are specifically aimed at the younger generation that has not been exposed to graphic anti-smoking advertisements since 2004.
"Hopefully it will help smokers to make the decision that 2013 will be the year they quit smoking. Smoking is the single largest cause of preventable illness and premature death in the UK. Doctors see at first hand the damage it causes to individuals as well as those around them," a BMA spokesman told the Guardian.