Just a hop-step from London's South Kensington station, Apero sits below The Ampersand Hotel on Harrington Road. The restaurant sticks to its broad 'Mediterranean' theme and talks up the menu's fresh, seasonal produce - the website likes to advertise their connection to foreign shores . Wherever they are, basement bars have a comforting feel that isn't lost in Apero.
Our verdict
It\'s early for dinner on a Thursday and Apero is fairly quiet. It doesn\'t get much busier as the night goes on, but it keeps a subtle hum of business. Cleverly, we\'d taken a corner table with long leather seating curving over the walls - it\'s comfortable and the window behind us, though mostly showing wall, is letting through a peak of the sunlight that London had been giving us.
Already booked in for the sharing menu, we barely glanced over the a la carte dishes on offer, but the Mediterranean feel is clearly evident with a plethora of cheese and fish choices. We are quickly brought an Aperol Spritz (the similar names don\'t seem to have any connection) before toasted focaccia with a bowl of balsamic vinegar and olive oil. It could be southern Italy if the minimal, yet exciting, sunlight wasn\'t so... English.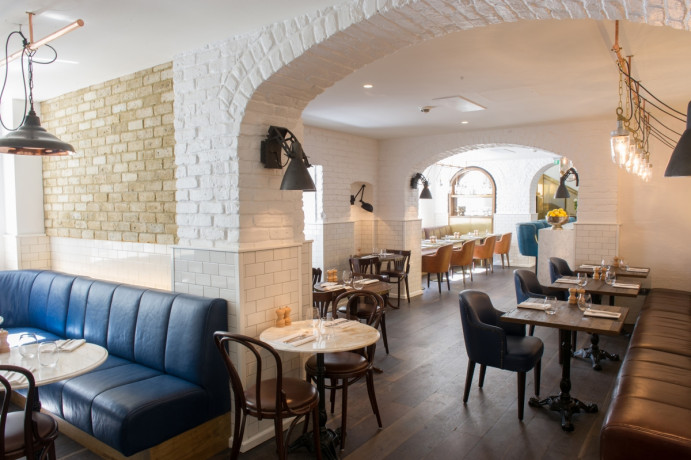 Next comes a selection of picking dishes - tomato and mozeralla wrapped in aubergine. It\'s what sushi would be if it came from northern Italy and it tastes fresh and cheery. Next to it is a charcuterie plate that has a salami which needs to be served everywhere and a selection of other fresh meats that we fought over. A small bowl of roasted padron peppers that my friend across the table described as \"tasting very... green\" - it\'s a fair description, they were better with a twist of salt.
The star of the evening was a cuttlefish risotto, laid in front of us in a big bowl of inky glory. We scraped out every last bit of perfect fish and ate the brothy rice until our teeth were smeared black.
Address - 2 Harrington Road, London, SW7 3ER

Times - Monday to Friday: 6:30am - 10:30am; 12pm - 2:30pm; 6pm - 10:30pm. Saturday and Sunday same lunch and dinner times, breakfast is 7am - 11pm.

Telephone - 0207 591 4410

Website - aperorestaurantandbar.com

Menus - Here

Prices - Sharing menu is £32 per person, not including drinks.
Our only real service hiccup came with the bavette steak, next. Put in front of us by a different waiter than the kindly Italian man we\'d been joking with, the other waiter then returned five minutes later because he\'d forgotten to say what was in front of us. The steak was good and chewy, my companion - who asks for any meat to be very well done - was a surprising fan. It could have done without the carrot puree on the side, but it was a plate all about the juicy meat, sliced for us to grab at.
All that food and a carafe of wine (maybe more...) down, we squeezed in a sweet, concluding pannacotta that almost finished us. We lay on the long chair and admired the tiled ambience of the place, the friendly waiter brought us an espresso each and we slid down, full of good food, seasonably relaxed and feeling very Mediterranean.
NOTE: James Tennent's meal was courtesy of Apero