The first Apple computer model has sold for more than $387,000 (£260,000) in an online auction by Christie's.
The Apple-1 was bought by an anonymous bidder and while it did not meet its top estimate of $500,000, it became among the most expensive computers sold at auction.
The highest price paid for a functioning Apple-1 was £433,000, which was sold at auction in Cologne.
A year earlier, another Apple-1 was sold by Christie's for £133,250. The lot featured a return label for Steve Jobs' parents' home, which at the time was used as the Apple Computer Inc headquarters.
The Apple-1 was designed by Steve Wozniak and hand-built in Jobs' parent's garage. It was the first in a long line of computers sold under the Apple brand.
The Christie's lot was one of only 30-50 left in existence and was thought to be among the first 25 produced because there was no manufacturer logo etched on the front. It is signed "Woz" after Wozniak.
Ted Perry, who put the computer up for sale, told how he was first introduced to Apple products in 1977 through a school project.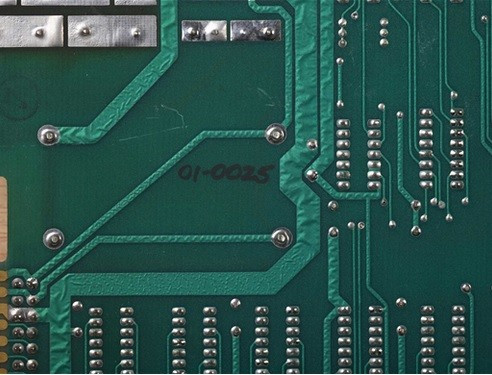 He was given the Title IV-C microcomputer grant while working as a project director for the San Juan school district and chose Apple to support the programme.
The Apple-1 was originally priced at $666.66 for the motherboard. It came without a keyboard, transformer or video display and was quickly replaced by the Apple II in 1977.
At the time, Apple encouraged owners to trade in their machines for newer models so they would not have to support the older machines.