Apple Inc. recently unveiled a new 15in MacBook Pro (with Retina Display) at the World Wide Developers Conference (WWDC). Now, rumours concerning a 13in MacBook Pro (with Retina Display) have begun the rounds.
Analyst Ming-Chu Kuo of KGI expects Apple to produce a 13in next-gen MacBook Pro (with Retina display), according to Apple Insider and the device should be unveiled sometime in September and be available in stores in early October.
"Apple has highest hopes for the 13in MacBook Pro with Retina display. But Apple was likely unable to unveil the new product at Worldwide Developers Conference (WWDC) this week because of low yield rate and greater assembly difficulty," said Ming-Chu Kuo.
What Will 13in MacBook Pro Have?
The 13in Macbook Pro, like its slightly bigger brother, will rely on Solid-State Drive (SSD) flash memory storage, rather than a traditional hard drive. It is expected to feature a display with a resolution of 1600 x 2560 pixels, whereas the recently launched 15in version has a resolution of 1800 x 2800 pixels and a pixel density of 220 pixels per inch (ppi). The 15in MacBook Pro measures 1.8x24.71x35.89cm and weighs 2.02kg. Kuo expects the 13in model will be slightly thinner but retain the Intel HD 4000 integrated graphics capabilities and powered by an Intel Ivy Bridge processor with a clock speed greater than 2GHz.
Are the Rumours True?
MacRumours believes Apple is testing a 13in MacBook Pro (with Retina Display) but under a codename of MacBook Pro10,2. The result database for battery utility app, MinibatteryLogger, for the 13in MacBook Pro, states the database entry is 25 April. The battery is of 6580mAh capacity, which is approximately 14 percent greater than 5770mAh battery found in the non-Retina Display-enabled 13in MacBook Pro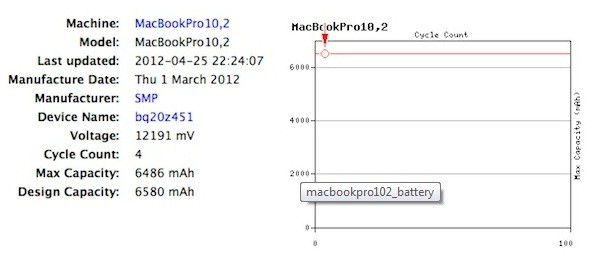 Analyst's Prediction
Ming-Chi Kou is the same analyst who, prior to the launch of the 15in Retina Display-enabled MacBook Pro, issued a report stating a thinner Retina-equipped MacBook would arrive as a new model. In addition, Kou also said the new model would be offered alongside upgraded versions of existing 13in and 15in Pro models. In an earlier report, Kuo also stated Apple may be preparing to drop the 17in MacBook Pro from its line-up, due to weak sales. Kuo's reports turned out true.