The now-liberated eastern part of Mosul continues to offer glimpses of life under the Isis rule. The jihadists occupied Iraq's second-biggest city in June 2014 and gathered there dozens of children and teenagers that had been taken from their parents in nearby villages.
They came from Shia and Yazidi families, but they would be trained and indoctrinated to renounce their families as apostates and become so-called "cubs of the Caliphate", a group of child soldiers and informers used by the militants to support their operations.
While Isis documented the indoctrination of children in their Syrian stronghold of Raqqa, the brainwashing of children in Mosul was less well-advertised. A Reuters journalist visited one of the seven complexes in Mosul used for those purposed, a former orphanage in the Zuhur district liberated in January.
The textbooks that were left behind show how war played a central part in the children's doctrine. In teaching "English for the Islamic State", common words such as apple and zebra appear next to army, bullet and sniper. The word "woman" is represented by a formless black figure clad in a full-body niqab. A maths textbook cover features a rifle made up of equations.
One of the orphanage workers, who was made to stay throughout the Isis occupation, told Reuters how the jihadists taught the Shia children to pray in the tradition of Sunni Islam and forced the Yazidis to convert. The girls were married off to the fighters.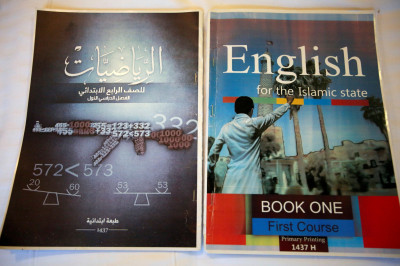 The woman who has become the voice of the Yazidi community, Nadia Murad, told the world about her ordeal as a sex slave of the jihadists. In an interview with the Economist's 1843 magazine, she also mentioned her nephew Malik. He was one of the hundreds of children who were captured by Isis and has since being brainwashed by the militants. He now rings her up to threaten her.
According to NGO Save the Children, more than one million children, some as young as 12 years old, who have been living under Isis in Iraq have either been out of school or forced to follow the jihadists' curriculum.
A father of five children, a man identifying himself as Hamid, told the organisation: "They would tell children how to make bombs. When children came out from the school there was a big TV in the garden where they were showing propaganda; how to kill and how to make suicide bombs and how to cut heads off."
The UK-based Syrian Observatory for Human Rights estimated that 300 children fighting for Isis had been killed in the first two weeks of the US-backed Iraqi offensive to retake Mosul, which started on 17 October 2016.