An Apple-branded watch from 1997 is now worth 50 times more than it was a year ago, thanks to the imminent release of the company's new Watch.
Created as part of a promotion for Apple's Mac operating system in the 1990s, the quartz watch has a 35mm case with metallic blue bezel and rubber strap. It isn't known how many were produced, but as recently as March 2014 one sold on eBay for $54.02 (£37). A identical watch is currently listed for $2,499.99.
Two more of the same watch are listed for $1000 and $750, but none had received any bids at the time of publication.
The surge in value - or estimated value until one actually sells - is down to the Apple Watch, a smart wearable announced in September 2014 and due to go on sale on 24 April. The gadget opened for pre-orders on 10 April and almost immediately sold out, with orders placed a day later given estimated delivery dates between May and August.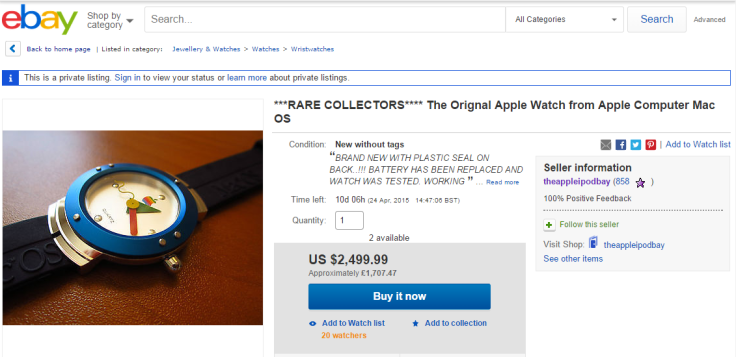 The same model of watch sold on eBay in March 2014 for just $54.02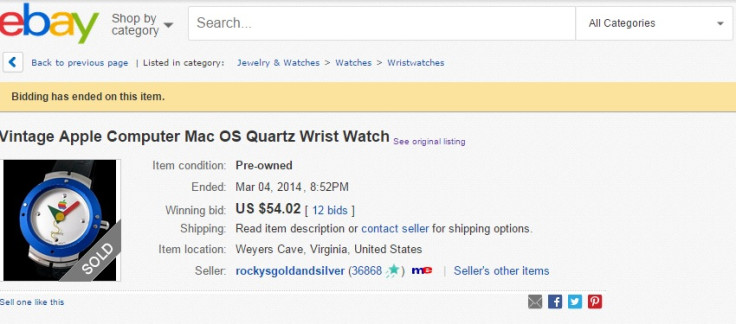 Unlike all Apple-branded wristwear to go before it, the Watch has a touch screen, can handle notifications like texts, calls, emails and Facebook messages, and can track the wearer's exercise and heart rate. The Watch starts at £299 for the aluminium Sport model; a stainless steel version costs between £479 and £949, while the gold Watch Edition is priced from £8,000 to £13,500.
The vintage watch listed for $2,500 has never been worn and comes with a new battery. The US-based seller, who deals in rare Apple products, claims to have two. They also have a set of two fourth-generation iPods from 2004 listed for $36,000, and an original iPhone from 2007 for $9,000.
For anyone wanting a vintage Apple watch, there are a few different styles to choose from, - including this, which runs backwards. There's no telling if Jony Ive commissioned the unique design, but no one can criticise the creator for not 'thinking different'.