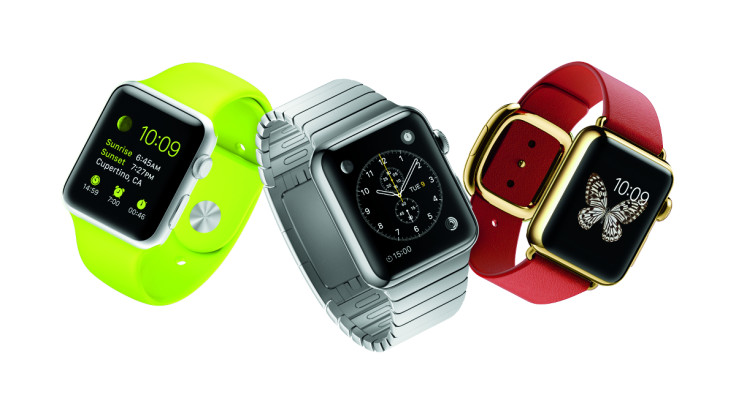 The Apple Watch is now available to try on in Apple stores and pre-order through the website, ahead of its 24 April release date. But with only 15 minutes allocated to each customer trying Watch on, here are some video guides to help you understand how the device works before you enter the store.
Hardware
First, there are several ways to physically interact with Watch. The touchscreen can be tapped and swiped but using a new technology called Force Touch, wearers can press down firmly to perform a new command, such as searching for a location in Maps.
As there is no keyboard on Watch, you can dictate to it to reply to iMessages and emails. The side button - no fancy name, it is just "side button" - looks and feels exactly like the power button of an iPhone but instead of waking Watch up, it gives quick access to your favourite contacts list.
Incidentally, waking Watch is done by lifting your wrist; the screen goes off again when you lower it. And sadly there is no way to keep the time constantly showing, as there is with the LG G Watch R and some other Android Wear watches.
Finally, the Digital Crown is a modern day nod towards how traditional watches are adjusted. But instead of changing the time, here it is used to scroll up and down pages, zoom in on images (pinch to zoom is not supported) and select on items instead of tapping on the screen.
Pressing the crown takes you to the Watch's app launching screen; pressing and holding it gives access to Siri. Alternatively, say "hey Siri" when the Watch screen is lit up to launch the personal assistant.
Watch face and home screen
Your experience with Watch begins with its watch face. There are several faces to choose from and customise but sadly developers are not yet allowed to create their own and distribute them through the App Store, like they can with Android Wear and Google Play.
Hopefully this will change soon. For now, the various Watch faces show the time (analogue or digital), moon phase, temperature, date, unread notifications and more. Tap the weather or calendar entry to go the corresponding app.
Apple wanted its watch faces to be beautiful and went to extreme lengths to achieve this. Wired reports how for just one face, featuring a flower, 24,000 photographs of flowers were taken over a period of 285 hours to capture the petals perfectly. For a jellyfish-themed face, Apple built a tank in its design studio and recorded 300-frames-per-second video at 4K resolution, which was then shrunk to the Watch's screen.
To change the watch face, press firmly on the current face, then swipe to find the one you want. Tap to make your new face, or customise aspects like how many numbers are shown around the dial, the colour of the second hand and additional information such as the temperature and calendar events. Press the Digital Crown to save the face, then tap it to make it your new face.
Glances and notifications
Swipe up from the watch face to see Glances, which are bite-size snippets of the content you check most often, such as the weather forecast, stock prices and fitness-tracking data. Tap on the Glance to open the full app. Swipe down from the top of the watch face screen to see your notifications - just as you do on iOS; these can be scrolled through by turning the Digital Crown or swiping the screen.
Digital Touch
Apple has created new ways for Watch owners to communicate with each other. Press the side button and navigate to a favourite friend using the Digital Crown. From here, you can call them using the Watch's speaker and microphone, send them an iMessage - either from a list of canned messages crated on your iPhone, or a dictated message - or, if they also have an Apple Watch, use Digital Touch.
There are three aspects to Digital Touch. One is the ability to draw a sketch on the screen and send it to your friend, who will see it animated on their own screen exactly as you drew it, before it disappears. Another option is to tap the screen, either once, or as a pattern, which your friend will feel through their Watch.
Finally, press two fingers on the screen to record your heartbeat and send that to your friend. Rather than a live heartbeat, as was previously thought, the Watch takes a recording and plays it back.
Messages
Apple Watch taps your wrist when messages arrive. The screen does not light up at this point - presumably to help save battery life - but will illuminate and display the message when you lift your arm. Lower your arm again to dismiss the message, or scroll down with the Digital Crown and tap reply.
This opens a list of so-called smart replies that are based on the content of the received message. Messages such as "text you in a bit" and "I'm on my way" are suggested, plus messages created previously in the Apple Watch app for iPhone.
Alternatively, messages can be dictated to the watch and sent as an audio or text message. Finally, a set of exclusive-to-Apple Watch emojis can be scrolled through and set. These include animated faces, love hearts and hand gestures.
Message are sent by pressing the Digital Crown to get to the app launch screen. Tap the messages icon, then press firmly on your conversation list, tap "new message", then add a contact and create your message.