The illegal hiring agreement made between several tech giants, including Apple, Google and Intel, may have been much larger than was previously thought.
An investigation by the US Department of Justice (DOJ) into Apple, Google, Adobe, Intel, Induit and Pixar for entering into no solicitation agreements for employees in an effort to fix the hi-tech labour market was originally settled in 2010.
However, the collusion allegations have since been revisited and clearance for 60,000 Silicon Valley workers to sue the companies over an alleged "overarching conspiracy" was granted in January.
Now, confidential internal memos within Google and Apple, recently reviewed by Silicon Valley news site Pandodaily, have revealed that secret agreements between Apple's Steve Jobs and Google's Eric Schmidt expanded over the years to form a cartel involving dozens more companies, potentially affecting more than a million employees.
The list of companies implicated by the documents includes Dell, IBM, Microsoft, Dreamworks, Comcast, Genentech and Paypal (owned by eBay).
'Unfair' hiring practices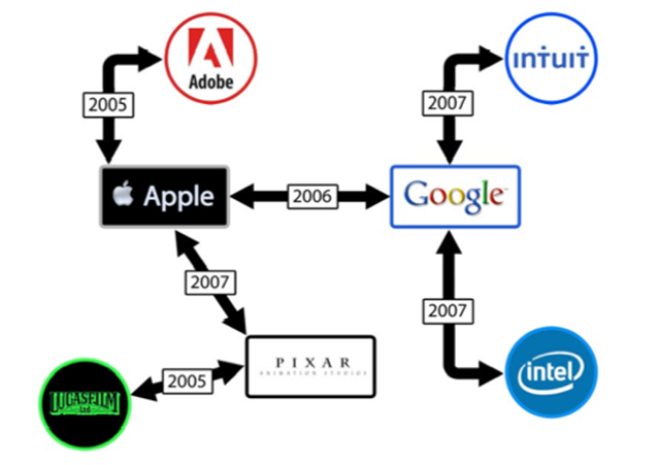 Talk of the Valley
Internal emails between Schmidt and Google's 'Executive Management Committee', dated from 2005, refer to a phone call the Google chief received from then-eBay CEO Meg Whitman complaining about the company's "unfair" higher pay packages.
"Google is the talk of the valley because we are driving up salaries across the board," Schmidt wrote. "People are just waiting for us to fall and get back at us for our 'unfair' practices now. Apparently a Google recruiter called Maynard Webb (their COO), and had a meeting with him. Based on this I have directed Amon to fire the recruiter immediately for cause."
Not long after this email correspondence, Google placed eBay on its list of "sensitive" companies, which placed restrictions on recruiters approaching employees from those companies.
Such alleged cross-agreements between firms were designed to fix wages in the labour market at a time when wages for tech workers were soaring.
If true, they would be in direct violation of the Sherman Act and Clayton Act antitrust laws that seek to enforce labor competition through job mobility.
Apple, Google and the other companies involved in the lawsuit have previously claimed that their almost identical non-solicitation policies were implemented at the same time coincidentally.
The trial is set to begin on 27 May.