Apple iOS 8.4: How to disable auto renewal of Apple Music membership after three-month free trial [GUIDE]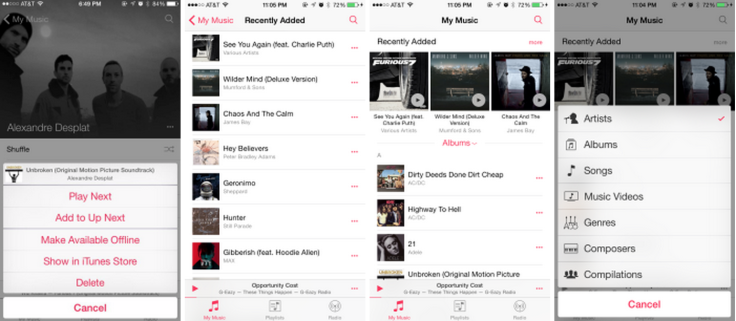 Technology giant Apple has released the much expected iOS 8.4 that incorporates a revamped Apple Music app and Beats 1 worldwide radio station. The Cupertino-based company's Apple Music audio streaming service lets users enjoy the app for free for a trial period of three months.
After the trial period expires, users will have to pay a monthly subscription fee of $9.99 (£6.40) for a single device or $15.99 for a family plan being offered by the company. By default, Apple sets the renewal of membership to "automatic". Consequently, users' credit cards will be automatically charged for the service after the trial period ends.
However, users can opt out from automatic membership by disabling the subscription renewal, thus preventing their credit cards from being charged the monthly fee.
Users can choose to pay the monthly fee if they wish to use Apple Music after the three-month trial period.
Follow the steps below to disable automatic subscription:
Download and install iOS 8.4 on your iPhone, iPod Touch and iPad.
Sign up for iTunes – navigate to Settings from within your device, head to iTunes and App Store to enter your Apple ID
Select View Apple ID after creating an Apple ID account (if you don't have one) or enter your existing Apple ID
Move to the Subscription tab and select Manage
You will be directed to the exclusive Apple Music membership page, then navigate to the Automatic Renewal button at the bottom of the page
By default, the Automatic Renewal button is set to "On", which leads users to compulsorily obtain a paid subscription after the three-month free trial period
Switch Automatic Renewal to "Off" and select Turn-off Auto Renewal option
New enhancements brought along with iOS 8.4
Apple Music
Become an Apple Music member to listen to millions of songs in the Apple Music catalog, or save them offline to playback later
My Music: Play all iTunes purchases/songs from Apple Music, and save playlists in one place
Completely redesigned music player that includes new features such as Recently Added, MiniPlayer, Up Next, and more
iBooks improvements and fixes
Browse, listen and download audiobooks from inside iBooks
Enjoy the all-new Now Playing feature, designed specifically for audiobooks
Books that are Made for iBooks now work on iPhone in addition to iPad
Find and pre-order books in a series from your library
Improves accessibility of widgets, glossary and navigation of books made with iBooks Author
New setting to turn off auto-night theme in your library
Resolves an issue that may have prevented Hide Purchases from working
Resolves an issue that may have prevented downloading books from iCloud
Other improvements and bug fixes
Fixes an issue where receiving a specific series of Unicode characters causes device to reboot
Fixes an issue that prevented GPS accessories from providing location data
Fixes an issue where deleted Apple Watch apps could re-install.
[Source: PhoneArena]
© Copyright IBTimes 2023. All rights reserved.