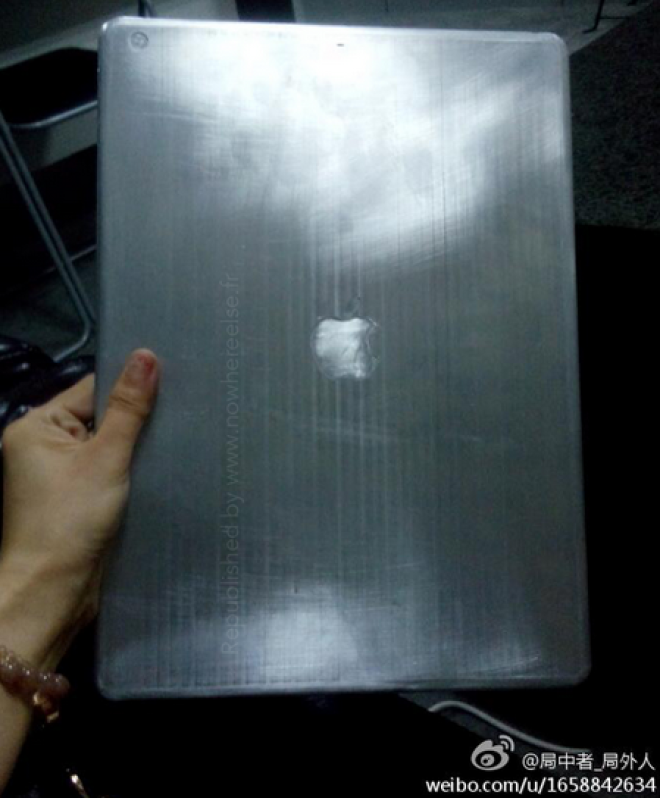 A new picture from China now gives us a look at what is allegedly Apple's 12.9-in iPad Pro tablet, according to a report from PhoneArena.
The prototype on display in the image is made from aluminium and has the Apple logo in the middle of its rear side, with an opening for a camera lens on the top left corner. It is worth noting that the finish that we see on the tablet's rear looks somewhat crude, either because it is a prototype or because of the quality of the image and its lighting.
Reports indicate that Apple is currently testing a version of the tablet with a 2K resolution screen, apart from a unit with a 4096 x 3072 display.
The report also goes on to add that Apple is making these tablets for the education sector, as a replacement for text books. So there is a possibility that the Cupertino-based technology major does not intend to sell these tablets to the general public.
It is also possible that this new slate is Apple's answer to Google's Chromebooks, a product that saw some serious growth in 2013 with Google boasting that 22% of US K-12 school districts use them.
Google isn't the only one that's trying to woo the education market. Samsung announced the 'Galaxy Tab 4 Education', which is a 10.1" WXGA (1280x800) device built with a rugged chassis and designed to work with Google Play for Education. It uses a 1.2 GHz quad core processor, 1.5 GB of RAM, 16GB of internal memory and has a rated battery life of 10 hours.