Apple iPad 4 Vs Google Nexus 10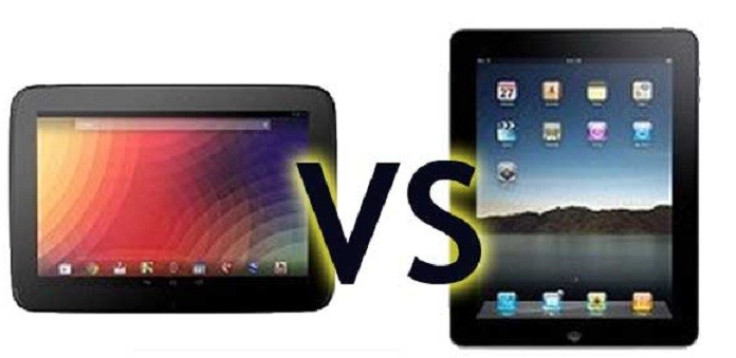 Apple unveiled its fourth generation iPad alongside the iPad mini on 23 October, just eight months after the release of third generation iPad. Featuring a 9.7in Retina display, the iPad 4 is powered by a new A6X chip and promises 'ultrafast wireless performance.'
Followed by Apple's announcement, Google launched its 10in Nexus-branded high resolution tablet manufactured by Samsung on 29 October. One of the key features of the Nexus 10 is that it runs the latest version of Andoird, codenamed Jelly Bean. The Nexus 10 features multi-users support, HD contents and "the best Google apps."
Take a look how Apple iPad 4 stacks up against Google Nexus 10:
iPad 4 vs Nexus 10: Display
The iPad 4 comes in two variants in terms of connectivity; Wi-Fi and Wi-Fi + 3G/4G (Cellular version). Both feature a 9.7in Retina display. The resolution of the Retina display is 1536 x 2048 pixels with pixel density at 264 pixels per inch (ppi). This means the iPad screen features 3.1 million pixels which is four times more than the number of pixels in iPad 2 and one million pixels more than an HDTV.
The Nexus 10, as its name suggests, has a 10in PLS display which is covered by toughened Corning Gorilla Glass 2. The tablet has a higher screen resolution than the iPad 4 at 1600 x 2560 pixels giving it a pixel density of 300ppi, which is more than four million pixels. Google boasts the Nexus 10 is the "ultimate tablet for watching movies and reading magazines" and is the "world's highest resolution tablet display."
iPad 4 vs Nexus 10: Dimensions
The iPad 4 measures 241 x 186 x 9.4mm and weighs 652g, though the 3G/4G version is 10g heavier.
The Nexus 10, in contrast, measures 264 x 178 x 8.9mm and is significantly lighter than the iPad, at just 603g.
iPad 4 vs Nexus 10: Operating System
The iPad 4 runs on Apple's new iOS 6 which promises more than 200 new features introduced at company's WWDC conference. Recently Apple has released another iOS upgrade - iOS 6.0.1 - to the iPhone, iPad and iPod touch. The software update brings improvements and bug fixes found in the previous builds.
Apple's app eco-system is severla years ahead of Google's in terms of iPad-optimised apps, with 275,000 at last count availabe in the App Store.
The Nexus 10 was launched with the latest verions of Google operating system, Android 4.2 (Jelly Bean), which brings a number of new features including the camera app called Photo Sphere. This app enables users to capture images that are larger in size and also allows users to share their photos on Google+. In addition users can add their Photo Sphere to Google Maps.
Android 4.2 features Gesture Typing which sees users typing by swiping between the letters of a word - similar to the Swype keyboard. It also adds support for wireless display which enables users to share movies, YouTube videos and other video and images on their TVs. Other key features of Jelly Bean include Daydream, enhanced Google Now, Google Search and Android Beam.
However, a lack of tablet-optimised apps in the Google Play Store have led to complaints by some reviewers and customers alike.
iPad 4 vs Nexus 10: Processor
The iPad 4 uses the A6X chip featuring a dual-core process paired with quad-core graphics. Apple never reveals the clock speed of the processor no the amount of RAM the iPad uses. According to a benchhmark scores by Primate labs, the A6X dual-core processor is clocked at 1.4GHz and the iPad has 1GB of RAM.
A range of benchmark tests conducted by AnandTech reveals that the iPad 4 indeed delivers faster performance and has better graphics capabilities compared to previous iPads as well as iOS smartphones in the family.
The Nexus 10 is powered by an Exynos 5250 chip featuring a dual-core Cortex-A15 processor paired with Mali-T604 graphics unit. The processor runs at a clock speed of 1.7GHz. The Nexus 10 has double the amount of RAM compared to iPad 4, at 2GB.
The CPU and GPU benchmark test results show that the Nexus 10 delivers faster performance and better graphics capability compared to the Nexus 4 which was launched alongside the Nexus 10.
iPad 4 vs Nexus 10: Camera
The iPad 4 features a five megapixels iSight camera with technologies including auto-focus, face detection and tap to focus. The rear camera is capable of recording 1080p video at 30 frames per second (fps). Apple's new tablet also has a 1.2megapixels FaceTime HD camera with similar camera technologies. This secondary camera is designed for FaceTime video calling over Wi-Fi or cellular networks.
The Nexus 10, like the iPad 4, has a five megapixel main camera with camera features including auto-focus, LED flash, geo-tagging, touch-focus and face detection. The camera can capture 1080p video at 30fps. The front-camera of the Nexus 10 has slightly more resolution than the iPad 4 at 1.9megapixel. An interesting feature of this front-camera is that it allows users to video chat with up to nine friends at once with Google+ Hangouts.
iPad 4 vs Nexus 10: Connectivity
The iPad 4 offers dual band Wi-Fi N, and Bluetooth 4.0. The device promises twice the Wi-Fi performance than the previous iPad models.
The Nexus 10 offers Wi-Fi N, Wi-Fi direct, DLNA, Bluetooth v3.0 with A2DP and dual-side NFC. The tablet's advanced MIMO Wi-Fi technology reportedly provides web browsing speed up to 4x faster than normal Wi-Fi.
iPad 4 vs Nexus 10: Storage
The iPad 4 comes in three storage variants: 16GB, 32GB and 64GB whereas the Nexus 10 has two: 16GB and 32GB. Neither Apple's nor Google's tablets support microSD card for additional storage space.
iPad 4 vs Nexus 10: Battery
The iPad 4 runs with a built-in 42.4 watt-hour battery with Apple claiming the battery lasts up to 10 hours of browsing on Wi-Fi, watching video or listening music.
The Nexus 10 packs a bigger battery of 9000mAh which according to Google provides up to nine hours of video playback and more than 500 hours of standby time.
iPad 4 vs Nexus 10: Price
The pricing is one of the most important criteria for customers. Coming back to the pricing the 16GB Wi-Fi model of iPad 4 is £80 more than the Nexus 10 with similar storage capacity. Below are the pricing details of both the tablets.
Nexus 10
iPad 4 (Wi-Fi/3G)
16GB - £399/£499
32GB - £479/579
64GB - £559/£659
© Copyright IBTimes 2023. All rights reserved.